Journalist held in Syria 'used expired passport'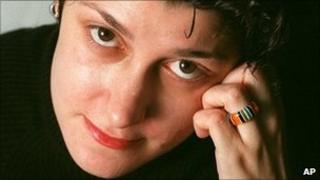 An al-Jazeera journalist detained by the Syrian authorities had entered the country on an expired Iranian passport, Iran's foreign ministry has said.
Dorothy Parvaz, who holds US, Canadian and Iranian passports, was detained when she arrived in Damascus in April.
Al-Jazeera later reported that she had been deported to Iran.
An Iranian foreign ministry spokesperson also told reporters Ms Parvaz "did not have a work permit".
Ramin Mehmanparast said she had attempted "to enter a country on two illegal counts".
The Iranian authorities have refused to confirm the journalist's whereabouts.
The Qatar-based network said it had earlier been told by Syrian officials that she would be released. Al-Jazeera said that it was "deeply concerned" for the Ms Parvaz's welfare.
"We are calling for information from the Iranian authorities, access to Dorothy, and for her immediate release," it said in a statement on its website.
'Committed journalist'
Ms Parvaz, 39, left the Qatari capital Doha on 29 April to report on the political turmoil in Syria.
Al-Jazeera said she was detained upon arrival in Damascus and has had no contact with the outside world since.
It said her detention was confirmed by Syrian officials who said she would be released. However, the same officials have now confirmed her deportation to Tehran, it said.
A statement from Ms Parvaz's family, carried on the al-Jazeera website, said: "Dorothy is a dearly loved daughter, sister and fiancee, and a committed journalist.
"It is now nearly two weeks since she was detained. We appeal once again for Dorothy to be released immediately and returned to us."
Ms Parvaz joined al-Jazeera in 2010 and works for its English-language service.
Syria - a close ally of Iran - has banned most foreign journalists from the country during its crackdown on anti-government protests.
Syrian journalists also face severe restrictions on what they are allowed to report.
Opposition groups and human rights organisations say hundreds of people have been killed and thousands arrested in the unrest.
UN Secretary General Ban Ki-moon has called on President Bashar al-Assad to "heed calls for reform and freedom and to desist from excessive force and mass arrest of peaceful demonstrators".
He said he was disappointed that a UN humanitarian team had not yet been allowed into the Syrian city of Deraa, where the unrest began in mid-March.