Yemen: Saleh resignation deal to be signed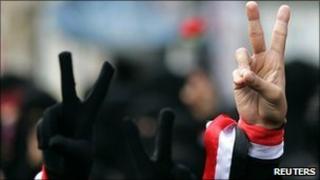 Yemen's government and opposition say a Gulf-brokered deal to end the country's crisis will be sealed on Wednesday.
Last month veteran leader President Ali Abdullah Saleh backed out of signing such a deal at the last minute.
The new deal has been agreed with amendments after intervention by US and European diplomats, officials say.
The General People's Congress party and the opposition coalition, the Common Front, have both agreed to take part in a national unity government.
Crisis warning
Opposition officials said the deal would see Mr Saleh, who has ruled for 33 years, out of power within a month.
"After American, European and Gulf efforts, there was agreement by the president on the Gulf initiative after simple changes, and the signing will be today," opposition official Yahya Abu Usbua told Reuters news agency.
President Saleh's aide, Ahmed al-Sufi, told AFP news agency on Wednesday: "Yes, it will be today."
Last month's signing was thwarted when Mr Saleh reportedly said he would only sign the deal in his capacity as head of the ruling party; the opposition had insisted he must sign as president.
Under its terms, the president would have handed power to his vice-president in return for immunity from prosecution.
But allies of Mr Saleh said he wanted to ensure that he would remain president to oversee a 30-day transition period after signing the deal.
Youth leaders of the months-long nationwide demonstrations against the president accuse the opposition of breaking a promise to put Mr Saleh on trial.
Some have also warned that allowing the president to stay on for another month could exacerbate the crisis in the Arab world's poorest state.
More than 130 people have been killed by security forces and supporters of Mr Saleh since the anti-government unrest began in January.