Rose Pizem murder: Mother and grandfather found guilty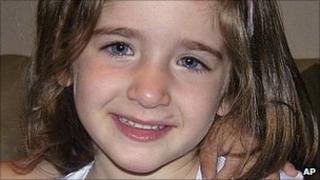 The grandfather and mother of a four-year-old girl whose body was found in a river in Tel Aviv in 2008 have been convicted of her murder.
An Israeli court found Ronny Ron guilty of murdering French-born Rose Pizem, and Marie-Charlotte Renaud, also French, of soliciting the murder.
The couple, who were lovers, will be sentenced at a later date.
Rose's murder shocked Israel and triggered a nationwide debate on child welfare.
Her disappearance in May 2008 triggered a huge search and made headlines across the country.
'Fit of rage'
Police divers found her body in a suitcase pulled from the Yarkon river in September that year.
Rose's parents, Renaud and Benjamin Pizem, had moved to Israel from France in 2004 as he tried to reconcile with his estranged Israeli father, Ron.
But the couple divorced the following year after Mr Pizem discovered his wife was having an affair with his taxi-driver father.
Mr Pizem took Rose back to France but after a long custody battle Rose moved to live with her mother and grandfather in Israel in 2007.
Authorities say Ron killed the girl in a fit of rage, stuffed her body into a suitcase and threw it into the river.
The sentencing is scheduled for 30 May. Both face life terms.