Bahrain sentences Shia cleric to 20 years in jail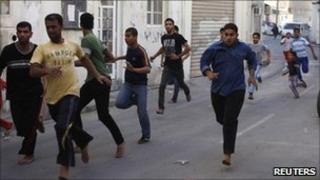 A Bahrain court has sentenced nine people to 20 years in prison on charges of kidnapping a policeman, the state-run news agency reports.
A well-known opposition Shia cleric, Mohammed Habib al-Saffaf, was among those sentenced.
Bahraini authorities accuse him of instigating recent anti-government protests.
The special security court, presided over by civil and military judges, was set up in mid-March.
The court was created under emergency laws implemented during a crackdown on Shia-led protests against the Gulf kingdom's Sunni rulers.
"The Lower National Safety Court sentenced nine defendants accused of kidnapping one policeman to 20 years in prison," the BNA news agency said, according to Agence France-Presse.
Strong criticism
No further details of the charge were provided.
At least 30 people have died since Bahrain's Shia majority took to the streets in February.
More than 20 activists are charged with attempting to oust the Sunni monarchy.
Last month, the court sentenced four Shia protesters to death and three others to jail for life for killing two policemen by running them over with cars during the protests.
The authorities in Manama have come under strong criticism from human rights groups for their crackdown on the Shia-led protests, who have been demanding an end to the Sunni monarchy.
The Bahraini authorities deny any human rights abuses.
They accuse Iran of being behind the unrest - a charge denied by Tehran.
In a statement on Thursday, human rights group Amnesty International condemned the conviction of a number of other activists it said were sentenced to between one and four years in prison earlier this week.
"These trials and convictions represent yet further evidence of the extent to which the rights to freedom of speech and assembly are now being denied in Bahrain," said Malcolm Smart, the group's Middle East and north Africa director.