Syria eyewitness: Protesters vow defiance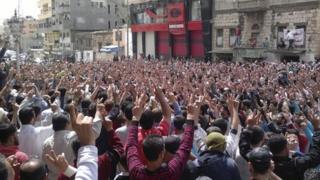 A journalist in Damascus - who cannot be named for security reasons - reports that demands for change in Syria are unlikely to die down despite the ongoing violent crackdown on protesters.
Every Friday, in a small village west of the Syrian capital, young men stream from the local mosque and into the narrow streets, mostly calling for political freedoms and an end to corruption.
Some have been calling for the end of the regime of President Bashar al-Assad.
As in hundreds of other Syrian cities, towns and villages, the Friday protests have become a weekly ritual.
Unthinkable two months ago, the protests now pose the biggest challenge to Mr Assad since he succeeded his father, Hafez, in 2000.
'Nothing has changed'
A local shepherd, tending his small flock of sheep near a river which flows by the village, says he has not been involved in the demonstrations. But he understands the crossroads his country is at.
"Everything has to change," he says. "Everything."
In recent days the regime has made efforts to show that change is on the cards.
Mr Assad and his advisers have been talking to delegations and dissidents from around the country as part of a process of "national dialogue".
They hope this will provide a political way out of the crisis, but activists say that will not happen any time soon.
"It will not stop," says Ahmed, an activist and journalist in Damascus who still bears the bruises of five days of detention at the hands of the secret police, the Mukhabarat.
He was detained at recent protests in the south-western suburb of Muadhamiya.
"Every Friday, the regime expects it to end, but it doesn't," he adds. "We've had weeks of this and nothing has changed."
Since March, security forces have used clubs, tear gas, live bullets, tanks and shells against protesters.
At least 850 are now dead, human rights groups estimate. Thousands more have been detained, beaten and tortured.
Even in Damascus, hundreds of plain-clothed Mukhabarat wait outside mosques armed with clubs and AK-47 assault rifles, while others sit packed in commandeered city buses, stationed at major squares to deter protesters.
That repression is scaring many, protesters admit.
They say the "silent majority" of Syrians is preventing the protest movement from gaining the kind of momentum that saw Egypt's Hosni Mubarak forced out of power by a popular uprising earlier this year.
But others have been angered by the violence.
"The dark nature of this regime is starting to be exposed to people," says Ahmed. "If people are not asking about Hama, they are asking about Homs or Deraa, and there is YouTube to show them it."
Manaf, another young protester who took part in demonstrations in the Midan district of Damascus, adds: "This regime gives absolutely no value to human life.
"Have you seen the videos of the Mukhabarat beating people and stamping them to the ground? In one way or another, that's the way we've been treated for 40 years."
In tight-knit tribal communities in Deraa and Homs, the killings have also fuelled anger in cultures where taking revenge for a murder is seen as a point of honour.
"If you kill one, you create a 1,000 more in the local community who are angry and want revenge," explains one Syrian with family in Deraa. "If your brother was killed would you stay at home?"
Meaningful reforms
Few young Syrians believe the latest efforts at dialogue will stop the protests.
The veteran political activists based in Damascus have been meeting government officials and some are advocating compromise.
But they cannot claim to lead or represent the people of Deraa or Homs, and protest leaders say moves like last month's scrapping of the emergency law have done nothing to stop the arrests and killings.
They do not believe that the regime will offer meaningful political reforms like free and fair elections. The ruling elite, they point out, simply has too much to lose.
But political analysts in Damascus say that the regime has little choice.
"Things can't just return to the way they were," says one analyst close to the government.
"After this, the people just won't accept it. The current political system is not acceptable any more. Having a president for life is not acceptable any more. Inheritance of power is not acceptable any more."