Palestinian PM Salam Fayyad suffers heart attack in US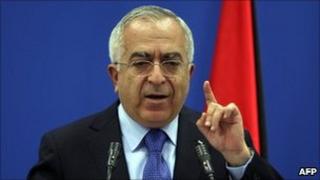 Palestinian Prime Minister Salam Fayyad has suffered a heart attack during a visit to the United States, his spokesman has said.
He said Mr Fayyad, 59, suddenly felt strong chest pain in Austin, Texas, and was taken to hospital.
US medics then performed surgery to open a blockage in the coronary artery, and Mr Fayyad is now in a stable condition.
Mr Fayyad, a chain smoker, is expected to leave the hospital in two days.
His political future has been in doubt following a reconciliation deal earlier this month between the Fatah Palestinian faction, which runs the West Bank, and their rivals from Hamas, who control the Gaza Strip.