Assad speech fails to tackle issues: regional press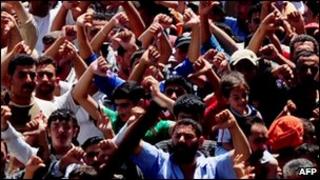 President Bashar al-Assad's latest speech - his third since the unrest broke out in Syria just over three months ago - was seen by the regional press as doing little to address the serious problems facing the country.
Commentators in the official Syrian press chose their words carefully, insisting that the speech was aimed at the Syrian people, not at an international audience. One writer acknowledged that the country had undergone some "painful events" but said that President Assad's speech pointed the way to "comprehensive reforms".
Elsewhere in the region, many writers concluded that the Syrian president had avoided the real issues and that his speech offered too little, too late. One Lebanese commentator, however, took the opposite view.
Israeli writers felt that the speech showed that Mr Assad was "delusional" and "detached from reality".
Syrian press
Ali Qasim in government-owned Al-Thawrah
The speech deliberately targeted the Syrian domestic audience, showing that it was aimed first and foremost at the Syrian people.
Ziyad Ghisn in government-owned Tishrin
Despite the painful events that Syria has experienced affecting its national unity and social texture and the great external pressure applied to it, President Bashar al-Assad preferred to look to the future in his speech yesterday, along the path of comprehensive reforms.
Other Arabic press
Sati Nur-al-Din in Lebanon's Al-Safir
Assad did not answer any of the street's questions or address external expectations… He did not make any serious concession… [His speech] came three months too late, during which time Syrians watched their country collapse.
Sulayman Taqiy-al-Din in Lebanon's Al-Safir
[Assad] came over as a statesman, from his black tie - denoting the seriousness of the situation Syria is in - to his grave manner, clear language and real awareness of the issues and problems.
Ali Hamadah in Lebanon's Al-Nahar
As soon as Syrian President Bashar al-Assad finished his third speech, the picture was completely clear: The ruling system in Syria is fighting a war of survival with all the weapons at its disposal.
Yasir al-Zaatrah in Jordan's Al-Dustur
Assad's promised reforms, if they are actually implemented, will lead to nothing more than a sham democracy along the same lines as what took place in a number of Arab countries before the recent revolutions.
Nasuh al-Majali in Jordan's Al-Ray
The speech focused on several points: first, the comprehensive national dialogue, and second, drafting a new election law that allows a wider popular participation and leads to a greater political plurality and a party system that allows the formation of other parties and multiple programmes. President Assad, however, avoided tackling the status of the Baath Party directly.
Editorial in Qatar's Al-Rayah
The Syrian president's speech that many people had waited for and relied on to be a decisive moment … came as a disappointment to many.
Tariq al-Hamid in pan-Arab Al-Sharq al-Awsat
There was nothing new in the Syrian president's speech. It disappointed the regime's supporters more than its opponents… It contained nothing but promises, threatening messages and even the burning of bridges with Turkey, which was the last card for Assad's regime.
Turkish press
Murat Yetkin in centre-left Radikal
Does Assad really want to do something and have his country achieve security or does he want to buy time by trying to pursue the path dictators in other countries tried - and failed? This is the question being asked in many capitals, including Ankara, after his speech.
Cengiz Candar in Radikal
Most Syrian watchers think that Bashar al-Assad would have won if respectable elections were held in Syria in January, when Hosni Mubarak in Egypt was overthrown and the "Arab Revolution" reached a peak. They don't think so any more.
Ibrahim Karagul in liberal, pro-Islamic Yeni Safak
Assad gave a timetable for concrete reforms, said the way would be left clear for the Muslim Brotherhood and promised that elections would be held in a few months' time. This should have been done months ago.
Israeli press
Eli Avidar in centrist Ma'ariv
Assad made clear that he has no intention of bringing about rapid change as demanded by the demonstrators. He thereby emphasised how detached his leadership is from reality: as though hundreds of thousands of Syrians confronted the army and endangered their lives just in order to bargain over sub-articles of the constitution.
Zvi Barel in left-of-centre, independent broadsheet Ha'aretz
Is Syria turning to democracy? Will its regime structure change? Will Assad step down? President Bashar al-Assad answered each of these three questions, which stand at the heart of the Syrian civil rebellion, with a definitive "no".
Eyal Zisser in pro-Netanyahu Yisrael Hayom
In a long, troubled and even delusional speech, Assad told the Syrian people that their country had fallen victim of an imperialist plot, behind which stood Israel and the United States… The speech proves again that Bashar is not part of the solution to the crisis; rather, he, himself and the regime he heads is the problem.
BBC Monitoring selects and translates news from radio, television, press, news agencies and the internet from 150 countries in more than 70 languages. It is based in Caversham, UK, and has several bureaux abroad.