Egypt divided over 'Israeli spy' Ilan Grapel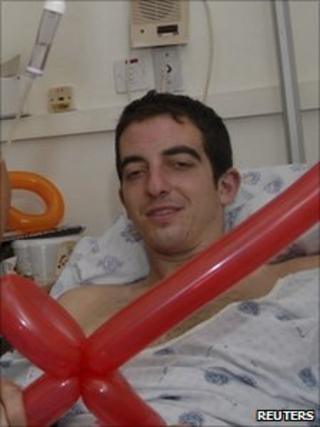 Is he a spy or a scapegoat? Egyptians are divided over the case of the alleged Israeli agent currently being held by Egypt's security authorities.
Ilan Grapel, a 27-year-old Israeli-American, was arrested in his Cairo hotel on 12 June.
Since then, official sources have suggested he worked to stir up sedition, both between demonstrators and the army, then later between Christians and Muslims.
But the claims have come in for mockery on Egypt's lively internet scene. And some people have suggested that the military who now rule Egypt are trying to use his case to distract attention from their own difficulties.
If Ilan Grapel is a spy, he certainly does not appear to be a very secretive or subtle one.
One of several Facebook pages that has sprung up to discuss the case is called "the Stupid Israeli spy".
Tahrir Square photos
Sceptics have pointed out that Mr Grapel posted photos of himself on the internet in Israeli army uniform, and in a hospital bed after he was wounded in the 2006 Israeli-Lebanese war.
He posted other photos of himself with protesters in Tahrir Square.
One friend said he regularly consulted a Hebrew-Arabic dictionary in public, read Hebrew newspapers on his computer in public, and taught Hebrew to an Egyptian.
It appears Mr Grapel travelled under his own name, and a quick search on the internet reveals his connection to Israel, including his past military service.
"All that was left was for him to wear a T-shirt that says 'spy' on the front," commented one writer on the Facebook page.
Friends and relatives say he is a law student based in the US, with a lively interest in the Middle East. Israel has officially denied he is a spy.
State-owned Egyptian papers still loyally defend the accusations against Mr Grapel.
An editorial in the state-owned Al Ahram newspaper declared: "The Egyptian General Intelligence Agency has dealt a painful blow to the Israeli Mossad by capturing the Israeli spy Ilan Chaim Grapel.
"Since the Egyptian revolution, the Mossad has been seeking to obtain the largest amount of information about the political, economic and social conditions in Egypt," it continued.
'Soap opera'
Another state-owned paper, Al Akhbar, suggested more spies may be behind the criticism of Mr Grapel's arrest.
"Most of the comments on websites deal with the arrest of the Israeli spy Ilan Chaim Grapel as an Indian movie or a low-quality soap opera written by the government... to occupy people with a new game and frighten them to stop demanding their legitimate rights.
"Such shallow comments written by every Tom, Dick and Harry confirm that spies are also located in websites," wrote one commentator.
But other writers have pointed out that stirring up fear of Israel was a familiar tactic under ousted President Hosni Mubarak, and one they believe is being continued by the military rulers who have taken over from him.
"Seriously what a soap opera," wrote the blogger and journalist Hossam al-Hamalawy.
"By this latest case, the intelligence service is trying to pull together a cheap move, so that any public criticism against the military would be depicted immediately as the work of Israeli spies.
"More importantly, the intelligence service is trying to convince the public that it is a vital agency in charge of protecting the country from any foreign plots so as not to receive the same treatment as State Security Police.
"Dear intelligence service, stop treating us like children. Who is this Israeli super agent who can single-handedly go around fomenting protests, and agitating against the army in the streets and mosques?"