Palestinian debut for Picasso's painting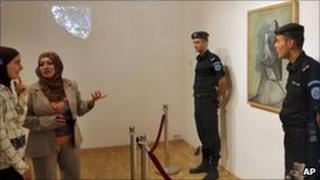 A painting by Pablo Picasso has for the first time been put on public display in the Palestinian territories.
The Buste De Femme - a cubist depiction of a woman - is being exhibited under armed guard in a gallery in the West Bank city of Ramallah.
The 1943 canvas is on loan from a Dutch gallery, and is thought to be worth around $7m (£4.4m).
The Palestinian authority said it was another small step towards Palestinian statehood.
'Historical moment'
The painting - on loan from Eindhoven's Van Abbemuseum - is the centrepiece of the Picasso in Palestine exhibition in Ramallah.
It now sits proudly on the wall of the city's tiny International Academy of Art, flanked by two armed security guards, the BBC's West Bank correspondent Jon Donnison says.
Organisers of the project said it had taken two years of logistical work to get the painting transported to the city in a specially-protected box, which had to pass through several Israeli checkpoints.
"This is a historical moment for us. Even though we will have it for one month only," Khaled Horani, the Ramallah academy director, told the AFP news agency.
"It says we are worthy to be like other countries that exhibit paintings by famous artists like Picasso," he added.