Lebanon parliament backs cabinet as opposition boycotts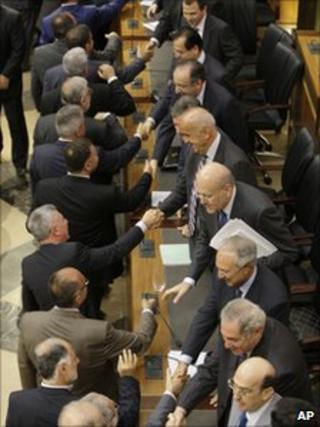 Lebanon's new government has won a parliamentary vote of confidence, after a heated debate over an international tribunal investigating the killing of former Prime Minister Rafik Hariri.
Opposition MPs, allied to Rafik's son Saad Hariri, left just before the vote.
But MPs allied to the Hezbollah bloc, which holds a slim majority, backed the government with 68 of 128 votes.
The cabinet has signalled support for the tribunal as long as it does not affect the country's stability.
"The government confirms it will continue the path of the tribunal... and continue to co-operate in this regard as per the UN Security Council Resolution which set up the tribunal to see justice served," said Najib Mikati, a billionaire businessman now fully installed as Lebanon's new prime minister.
But the parliamentary debate that preceded the confidence vote was acrimonious and the most contentious issue was the Special Tribunal for Lebanon (STL), says the BBC's Owen Bennett Jones in Beirut.
The STL has now issued arrest warrants for four members of the Shia militant and political organisation Hezbollah, accusing them of involvement in the assassination of Rafik Hariri in a massive truck bomb in central Beirut in 2005 that killed him and 22 others.
One after another, opposition politicians made speeches demanding that the arrests be made and, just before the vote, to signal their strength of feeling on the issue, they walked out of parliament, our correspondent says.
The government insists that it will co-operate with the tribunal, but in fact no-one is expecting the authorities to arrest the Hezbollah suspects, our correspondent says.
In a defiant speech on Saturday, Hezbollah leader Hassan Nasrallah said they would never be arrested even in "300 years".