Arab Spring: Old habits die hard for Egypt security forces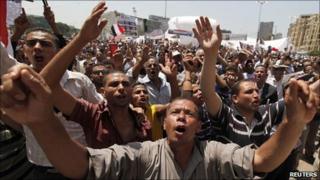 "The very time that millions of Egyptians were celebrating their freedom was the moment I lost my freedom."
The words were those of Salwa Hoseini, a 20-year-old woman who graduated from the Tahrir Square school of protest this February.
Like so many others of her generation, she found her political voice and, in the process, brought down one of the most entrenched regimes the region has known.
I met Salwa in a 16th floor room overlooking Tahrir Square, a patch of dusty urban space that has joined a small list of places around the world which will be remembered for their association with the fight against oppression: Gdansk in Poland, the Brandenburg Gate in Berlin, Kliptown in South Africa, and that other square, Tiananmen, in China.
But for Salwa, this epicentre of the so-called Arab Uprising is a reminder of the day her world was turned upside down.
Traumatised and angry
On 9 March, Salwa had returned to Tahrir Square with thousands of others in an attempt to keep up the pressure on the Transitional Military Council (TMC).
Without warning, and amidst a foul-mouthed tirade, she and a number of other women found themselves under arrest and cooped up in a bus. It was the beginning of an ordeal that has left them all feeling sullied, traumatised and, above all, angry.
They were taken to a military prison and subjected to what they were told would be a medical examination. It included a humiliating virginity test performed by two male officers.
Salwa was released four days later. She was the first of the women to speak out and demand action.
According to Human Rights Watch, the men involved in what can only be described as a sexual assault have yet to be brought to justice.
Patience running out
This ugly episode is a grim reminder of just how tough it may be to erase the ingrained propensity for violence, brutality, and casual abuse that was the hallmark of the old regime's security forces.
Five months on from that momentous day when Hosni Mubarak was forced to step down as president, many of those who led the charge for change now worry that their revolution might be stalling.
Their list of grievances is a long one, but high on it is the lack of any tangible evidence that people are being held accountable for their past actions.
As one activist I met in a coffee house put it: "Nothing has happened. Mubarak is still in Sharm [el-Sheikh]. We haven't seen him in court."
Their biggest fear is that without any obvious signs that the uprising is indeed bearing fruit, the wider support for change will begin to seep away.
The fact is that some are already beginning to question whether it has been worth it.
The economy has taken a battering. Time and time again ordinary people - commuters on a bus, a juice seller in a market - have told me how life is getting tougher than it used to be.
You sense their patience is running out.
No time like the present?
For their part the generals in the TMC seem unwilling or unable to take the epic decisions that are a necessary precursor to building a new Egypt.
Whether it is a trial for Mr Mubarak and his henchmen (which, presumably, would feel like fratricide) or grappling with the corruption and mismanagement in the economy, they are leaving it to the parliament that is due to be elected in September.
It is a brave man who would bet on politicians vying against each other for power and influence getting the job done.
There are many here who believe there is no time like the present. Leaving it till after the polls might be leaving it too late.
The politicians' sense of mission, of purpose, is never likely to match the fervour and courage for which Tahrir Square has rightly earned its place in history.