Profile: Robert Ford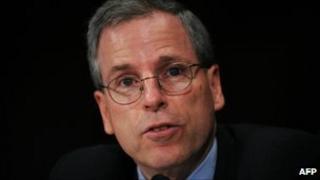 Robert Ford is a career diplomat who in January became the first US ambassador to Syria since 2005 as Washington sought to re-engage with Damascus.
On 7 July, Mr Ford enraged the Syrian government by travelling to the restive city of Hama to show solidarity with residents who had held a series of massive protests despite a brutal crackdown by security forces.
After he left the city the next day, hundreds of thousands of residents once again took to the streets to demand the overthrow of President Bashar al-Assad, prompting an angry reaction from the interior ministry.
A statement said Mr Ford had met "a number of the saboteurs and incited them to more violence and protest and to refuse dialogue", and was attempting to deepen discord and sedition among the Syrian people.
The US state department said it was "dismayed" and dismissed the complaint that it was a provocation as "absolute rubbish", insisting he had only "witnessed average Syrians asking for change".
Three days later, government supporters attacked the US embassy, breaking windows and writing graffiti calling Mr Ford a "dog".
Renowned Arabist
Mr Ford was born in 1958 and grew up in Denver, Colorado.
He earned his bachelor's degree from Johns Hopkins University in Baltimore, Maryland, in 1980, and his masters from the Johns Hopkins School of Advanced International Studies in Washington DC in 1983.
Prior to entering the Foreign Service in 1985, he served as a Peace Corps volunteer in Morocco.
After an early career that took him to a number of cities worldwide, including Izmir, Cairo, Algiers and Yaounde, Mr Ford was appointed deputy chief of mission at the US embassy in Manama, Bahrain, in 2001.
Considered one of the state department's most proficient Arabic speakers, following the US-led invasion of Iraq in 2003 he was sent to the city of Najaf as the representative of the Coalition Provision Authority.
In June 2004, Mr Ford became political counsellor in Baghdad.
There, he rose to prominence by working with Iraqi officials on the January 2005 legislative elections, the establishment of the transitional government, the new constitution, and the October 2005 referendum.
Mr Ford also spearheaded efforts to persuade the Sunni Arab community to participate in the December 2005 elections. Following his intervention, there were much improved turnouts in several mainly Sunni provinces.
"We realised that we had really turned a corner with Sunni Arab communities," he told the Los Angeles Times. "If you had told me we were going to get a voter turnout of 75% of Anbar, I wouldn't have believed it."
In 2005, his achievements were recognised when he was given the James Clement Dunn Award for Excellence in mid-level Foreign Service officers. The following year, he was named ambassador to Algeria.
Mr Ford returned to Baghdad two years later, however, when he was appointed deputy chief of mission. He remained there until 2009, when he moved to the state department's Office of the Inspector General (OIG), which is tasked with conducting inspections, audits and investigations.
In February 2010, President Barack Obama nominated him to be the ambassador in Damascus, saying he would "engage the Syrian government on how we can enhance relations, while addressing areas of ongoing concern".
However, his confirmation stalled in the Senate because Republicans objected to efforts to bring Syria back to the diplomatic table.
Frustrated by the delays, and with diplomats in Damascus complaining that the authorities refused to deal formally with anyone but an ambassador, Mr Obama appointed Mr Ford in January 2011 while the Senate was in recess.
In April, following the outbreak of anti-government protests across Syria, White House spokesman Jay Carney defended the move and dismissed complaints that Mr Ford had failed to stop the killing of demonstrators.
"Yes, it has been useful to have an ambassador there," he told reporters. "Having an ambassador to Syria has allowed us to be in Syria, in the presence of the government to make our views known directly."
With Mr Ford's tenure due to finish this year unless he is confirmed by Congress, he is now being placed under even greater scrutiny.