Change of 'regime tactics' could reshape Syria protests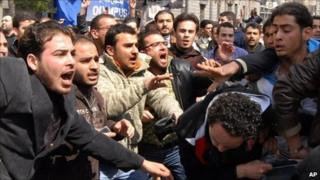 The owner of a Damascus hotel had his office door wide open with a news broadcast from al-Jazeera TV station spilling out.
It was a risky thing to do.
Qatar-based al-Jazeera is one of several foreign news channels President Bashar al-Assad's regime dubs "instigators" of the trouble.
Nevertheless, the hotel owner did not seem worried.
"The Mukhabarat (secret police) is busy right now," he said.
"Those guys have their hands full."
His confidence was the exception: Most residents of the capital habitually lower their voices to declare that the situation is "improving".
After four months of protests and 1,400 people killed, Damascus displays a peculiar calm.
Cafes and parks are overflowing with people enjoying the slowly cooling summer evenings.
This is in sharp contrast to three months ago, when streets were empty.
Commerce is moving along seemingly as usual, although the economy has certainly taken a severe hit - something which may affect the outcome here.
Everyone is waiting to see which way Syria will go; towards the fall of yet another Middle Eastern dictator, or slowly ebbing protests as a result of brutal crackdowns.
Protesters say there is no turning back. The regime claims to be in control of the situation.
Contradictory signs
Since March, Syria has witnessed a slow escalation, with the spreading of protests to new locations, rumours of defecting soldiers, mass killings, and the "liberation" of Hama - as was optimistically reported.
This all seems to point to an inevitable outcome. Yet it is too soon to declare the end of the Assad regime.
The signs are contradictory. In mid-June, some commentators said protests seemed to be dwindling.
Others reported that security forces were stretched thin and showed signs of weakening in May.
But last Friday protesters all over Syria came out in unprecedented numbers - while the security forces have not had any new, large-scale defections.
The list of Damascene neighbourhoods "in revolt" is long - from Harasta in the south to Douma in the north.
However, despite the number, protests in the capital appear fairly contained and isolated.
The military can be seen on the outskirts of Damascus but in the centre the Mukhabarat reigns - and that is business as usual in this tightly controlled police-state.
We went to several neighbourhoods with a reputation for protest - Midan in the centre of the city, and Qaboun close to Abbasyeen square.
Except for painted-over graffiti on walls, dumpsters and phone booths, a casual observer would spot little out of the ordinary.
"This is because it's all over in less than 30 minutes," said one resident of Ma'ddaniya a suburb, where the security forces killed several people at a demonstration in June.
"Protesters gather, chant and disperse as soon as security cracks down, and then it's over."
Demonstrations throughout the city follow the same pattern.
The regime seems to have realised, albeit slowly, that more blood will only increase protests - as happened in Tunisia and Egypt.
The recent drop in casualties might indicate a shift in tactics.
Ramadan reckoning
In Homs and Hama, the security forces are now reportedly moving from neighbourhood to neighbourhood arresting people.
Protesters say the prospect of being captured and tortured is more frightening than merely being shot.
One protester in the Daf as-Shouk suburb of Damascus said he was so intimidated by the security forces he also joined pro-regime rallies "to relieve some of the pressure".
"Anti-regime protester by day, pro-Bashar in the evening," he joked uneasily.
Without people coming out en masse in Damascus and Aleppo - the two economic hubs and most populous cities - how will the opposition move forward?
Protests in the capital are still in the thousands on Fridays and only a few hundred on weekdays.
Anti-regime Damascenes who have yet to join demonstrations say: "We want to demonstrate but we need more people. Perhaps we need the people from the countryside to come here."
That seems unlikely with the numerous checkpoints controlling roads to the centre.
There are several explanations for the continued ambivalence of the capital.
A heavy security presence, scores of regime loyalists and beneficiaries, a more divided and sectarian city, and the lack of trust and strong neighbourhood ties all deter people from joining protests.
Syria is in wait-and-see mode. People on both sides forecast a protracted situation of instability.
Then the economy could start to matter.
Other important factors include the improving organisation of the opposition; the security forces' resilience, and international support. The US ambassador's visit to Hama on 8 July significantly boosted opposition morale.
Prospects for national dialogue have floundered once again, with dissidents refusing to participate in the 10 July talks and the divided opposition holding their own conference in Turkey on 16 July.
The only event that is undoubtedly drawing closer is Ramadan, when "every day is a Friday", and protesters could reach a critical mass.