Egypt after Mubarak: Opposition defiant despite clashes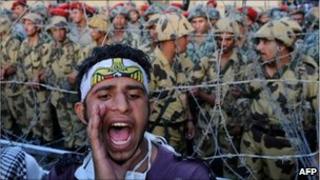 Opposition supporters in Egypt have vowed to continue their protests after two days of violent confrontations with the army and men in plain clothes.
Several hundred people were injured, according to the health ministry.
The protesters are angry about the slow pace of change from the military council now running Egypt.
Demonstrators believe the violence was orchestrated by the military though the army has always insisted it will not attack them.
Some of the protesters who returned to Tahrir Square in the centre of Cairo were carrying wounds from the last couple of days.
Protesters were injured when unidentified men in plain clothes attacked marches from the square to the defence ministry, where the ruling military council is based.
'They beat everyone'
Hundreds of protesters were still camped in Tahrir Square on Sunday, an AFP news agency reporter said.
They looked tired and dispirited but the mood was one of defiance.
"We will stay in the square," said Mohammed Amr, 32, who was wearing an eye patch after being injured overnight.
Asmaa Ibrahim, 19, said she had been beaten during the clashes.
"They beat everyone, even the girls," she said. "We won't stop talking."
The clashes this weekend mark a new stage in the confrontation between the opposition and the military council, BBC Middle East correspondent Jon Leyne reports.
The military command far more respect than the security forces who were overwhelmed by protestors when Hosni Mubarak was in power, and members of the public are growing tired of endless protests, he says.