Egypt's ex-interior minister to be tried with Mubarak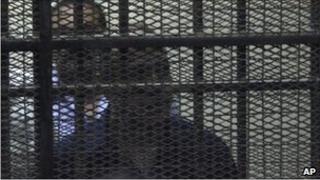 A court in Cairo has ordered Egypt's former Interior Minister Habib al-Adly to stand trial next week alongside deposed President Hosni Mubarak.
Both are charged with ordering the killing of protesters in February, a charge which carries the death penalty.
Mr Adly, has already been sentenced to 12 years for corruption, appeared in court wearing a blue prison suit.
For the first time, broadcast live on state TV, Egyptians saw one of the most senior Mubarak-era figures on trial.
The move comes amid growing confrontation between protesters and the ruling military council.
Mr Adly will now face trial on 3 August alongside Mr Mubarak and the former president's two sons, accused of ordering the killing of protesters during the 18-day revolution that saw Mr Mubarak step down on 11 February.
More than 840 people died in the uprising and hundreds more were injured.
But there are growing doubts about whether the trial can go ahead, with conflicting reports almost every day on the health of the former Egyptian leader, says the BBC's Jon Leyne in Cairo.
It has contributed to an atmosphere of extreme tension in Cairo and other cities, he adds.
Over the weekend, protesters were involved in violent confrontations with unidentified civilians, whom they believed were plainclothes government agents.
If the trial of the former president does not go ahead next week, there could be an outburst of anger across Egypt by supporters of the opposition and relatives of those who lost their lives in the revolution, our correspondent says.
Also on Monday, former Prime Minister Ahmed Nazif was charged in a corruption case by military prosecutors, in the first case of a former regime official facing military justice.
In July, he was given a one-year suspended sentence for unlawful gains in a business deal worth 92m Egyptian pounds ($15m; £9.5m). He is currently in prison, pending investigation into other corruption charges.