Attack on UN peacekeepers in southern Lebanon condemned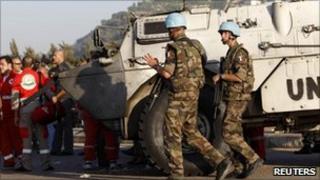 UN Secretary General Ban Ki-moon has condemned a roadside bomb attack that wounded five French peacekeepers in Sidon, southern Lebanon, on Tuesday.
It was the second such attack on the UN force in two months.
Mr Ban said he was "deeply disturbed".
It was not immediately clear who was behind the attack but tensions are rising in Lebanon over a UN-backed inquiry into the killing of former Prime Minister Rafik Hariri.
A statement from the UN force in Lebanon (Unifil) said that an explosion targeted a peacekeepers' convoy along the main road leading to the capital at about 18:00 local time.
"Unifil forensic experts are at the scene and Unifil is working in co-ordination with the Lebanese armed forces to determine the circumstances of the incident," it said.
The UN Security Council added its condemnation of the bombing, which it called "a terrorist attack", as well as any attempts to threaten the security and stability of Lebanon.
Unifil is tasked with overseeing a fragile peace along the border between Lebanon and Israel. It has been based in the south of Lebanon since 1978 although its mission widened after the 2006 war between Israel and Lebanon's political and militant Shia Muslim force, Hezbollah.
The 12,000-strong force is currently commanded by Spain, although Italy and France currently have slightly larger contingents of soldiers.
Mounting tensions
There are growing concerns over fallout from the Special Tribunal for Lebanon, which the UN supports. It has indicted members of Hezbollah, but the group refuses to hand over the suspects.
The tribunal is expected to publish more details of the indictments when a 30-day deadline expires at the end of the month.
It is investigating the assassination of Mr Hariri in a car bombing in Beirut on 14 February, 2005.
Iranian-backed Hezbollah accuses the tribunal of being politically motivated.
In Lebanon, there are also fears that unrest in neighbouring Syria, which has seen more than four months of anti-government protests, could spill over and have a destabilising effect.
In May, six Italian peacekeepers were wounded in an blast targeting a UN convoy.
That was the first attack on Unifil since 2008. In 2007, six Spanish soldiers were killed when a bomb hit an armoured personnel carrier near to the Israeli border.