Palestinian police raid home of ex-Fatah man Dahlan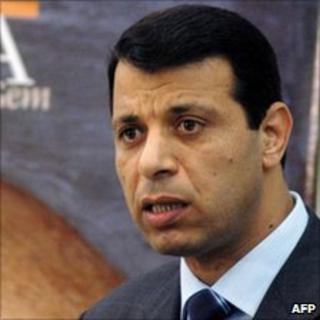 Palestinian police have raided the house of former Fatah official Mohammed Dahlan, in one of their biggest security operations in the West Bank for years.
Mr Dahlan was expelled from the party last month over allegations of corruption and trying to undermine the leadership of President Mahmoud Abbas.
The raid came hours after his appeal against the expulsion was rejected.
Mr Dahlan denies the corruption claims. No formal charges have been laid.
Equipment seized
Scores of Palestinian police and security forces surrounded Mr Dahlan's Ramallah home at 0700 (0400 GMT), reports said.
They forced their way in, arrested several of his bodyguards and seized weapons, computers and vehicles from the house, witnesses said.
The Palestinian interior ministry said such private bodyguards constituted an illegal armed gang, the BBC's Jon Donnison reports from Ramallah.
Mr Dahlan - who has parliamentary immunity as an elected member of the Palestinian Legislative Council - was understood to have been locked in a room of his house while security forces conducted the searches, the AFP news agency reported.
The 49-year-old was once the powerful internal security minister and seen as a potential Palestinian leader. But his reputation never recovered from the defeat of his security forces in Gaza by Hamas in 2007.
On 12 June, the Fatah Central Committee (FCC) voted to expel him from the party amid claims that he was plotting an internal coup against Mr Abbas.
Mr Dahlan alleges that there is a witch hunt against him by people who feel he is a threat to the leadership of President Abbas, our correspondent Jon Donnison says.
The decision to expel Mr Dahlan must now be approved by a two-thirds majority of the Fatah Revolutionary Council.