Egypt witnesses Mubarak's historic trial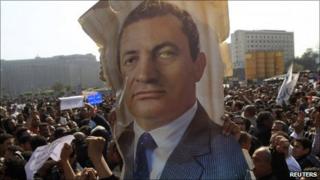 The trial of ex-President Hosni Mubarak could be a key moment for Egypt's future following his toppling in February.
He is charged with corruption and ordering the killing of protesters - the latter a charge that carries the death penalty.
A temporary courtroom has been set up inside Cairo's police academy, formerly known as the Mubarak police academy, until the name was hastily amended.
Mr Mubarak, who had been under arrest at a hospital in the coastal resort of Sharm el-Sheikh since April, is charged alongside his sons Gamal and Alaa, former Interior Minister Habib al-Adly and other officials.
But Egyptians had been deeply sceptical over whether the military who now rule Egypt would really allow their 83-year-old former leader to be humiliated in this way.
Professor Mustapha Kamel, of Cairo University, is one of many Egyptians convinced that Mr Mubarak's health might have been used as a useful way of excusing him from appearing.
"There is a sort of corporatist mentality in the army that commanders of the army should not be humiliated," he explained.
"There is also a personal element involved.
"The president of the Supreme Council of the Armed Forces, Field Marshall [Mohammed Hussein] Tantawi, was for years head of the presidential guard, so he was in charge of protecting Hosni Mubarak.
"Somehow in the Egyptian culture it does not seem good for someone who was supposed to protect someone else to take this person and put him on trial."
Identified gunmen
Mr Mubarak was deposed on 11 February, after 18 days of mass demonstrations, centred on Cairo's central Tahrir Square, in which some 850 people were killed.
Sections of his deposition have been leaked to the media, and they give a clue as to his likely defence.
The former president apparently claims he did not know that the security forces were opening fire on protesters, and even if he had, he said no-one would have obeyed his orders to stop.
That will stretch the credulity of Egyptians, who lived under his dictatorial rule for 30 years.
But establishing command responsibility could well be difficult.
Many of the victims were shot by unidentified or plainclothes gunmen, hidden on rooftops or attacking at night.
Almost everyone believes they were government agents, but precisely who has not emerged.
Prof Kamel described how such an authoritarian system works.
"I think the president relies on people who understand his wishes without him saying anything about them," he said.
"So for this reason it will be very difficult to find any document or a tape with the order of the president."
Above the law
Nevertheless, Heba Morayef - the Cairo-based researcher for Human Rights Watch - says Mr Mubarak and his former officials must be brought to justice.
"I think it is crucial to have a proper trial holding former officials who were not just above the law," she said.
"You couldn't criticise President Mubarak, you couldn't dream of ever seeing him held responsible for corruption or any abuse that he personally oversaw and enabled for 30 years.
"And in a sense I think Egyptians felt a great sense of pride when Hosni Mubarak was first indicted."
There are plenty of Egyptians who think differently - that this trial is a distraction from the many massive challenges facing the country.
The tented village of protesters in Tahrir Square, who had camped out for a month demanding justice, has been cleared away by the police and army with relatively little resistance.
But if Mr Mubarak does not have his day in court, many fear that more protests, and a new period of unrest, could well be in prospect.