Egypt al-Adly trial: Gun evidence shown in court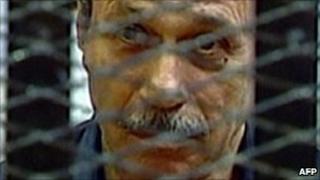 Guns, ammunition casings and grenades allegedly used in attacks on Egyptian protesters earlier this year have been shown in court in the capital, Cairo.
The boxes full of evidence were opened at the trial of ex-Interior Minister Habib al-Adly and six other officials.
They are charged with killing demonstrators during the unrest that led to the ousting of President Hosni Mubarak in February.
Mr Mubarak pleaded not guilty to the same charges on Wednesday.
The former president is being tried along with his two sons, Alaa and Gamal. The three also deny separate charges of corruption.
The charge of ordering the killing of protesters carries the death penalty.
Blood-soaked jacket
The BBC's Jon Leyne in Cairo says Egyptians are still absorbing the shock of seeing their former leader in the court.
He was wheeled into the court at Cairo's police academy on a hospital bed and stayed inside a cage during the proceedings with the other defendants.
Mr Mubarak was flown to Cairo from hospital in the coastal resort town of Sharm al-Sheikh, where he had been detained and receiving treatment since April for a heart condition.
The former leader resigned on 11 February after 18 days of protests in Cairo's Tahrir Square, the focus of the anti-Mubarak protests in which some 850 people were killed across Egypt.
He and his sons are now not due back before Judge Ahmed Rifaat until 15 August.
Our reporter says that after the dramatic scenes on the opening day of the trial, Thursday's hearing began to get into the detail of the case.
Mr Adly, who has already been sentenced to 12 years in jail for money-laundering and profiteering, was head of the country's security services.
Judge Rifaat ordered the opening of boxes of evidence, which included four weapons.
According to the Associated Press news agency, the evidence also included operational police logs during the time of the uprising and the blood-soaked jacket of one of the protesters who was killed.
The case was adjourned until 14 August to give lawyers time to examine this evidence.
'Revolution has won'
Both hearings were broadcast live on Egyptian television and gripped the nation.
Up until the last moment, there was doubt whether Mr Mubarak would actually appear in the court.
Our reporter says the headline in independent newspaper al-Dustour on Thursday reads, "Egypt's revolution has won".
The paper al-Akhbar has, "The revolution has succeeded".
Over the past month there have been renewed sit-in protests in Tahrir Square by people angry with the slow pace of change in the country.
Among their demands to the military council in charge has been a speedier trial for former government officials.
On Monday and Tuesday, police backed by troops moved in to clear the last few protesters from the square.