UN chief urges Assad to end Syria crackdown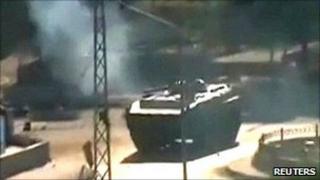 UN Secretary-General Ban Ki-moon has urged Syria's President Bashar al-Assad to "immediately end" the use of troops against civilian protesters.
In a telephone call to the Syrian leader, Mr Ban also said the use of mass arrests against protesters must be stopped, the UN said.
It was the first contact between the two men since April.
President Assad is facing increasing international condemnation for using troops and tanks to quell protests.
Meanwhile, a leading activist said on Sunday that Syrian talks had launched a pre-dawn attack on the eastern city of Deir al-Zour.
Rami Abdel Rahman, of the London-based Syrian Observatory for Human Rights, told AFP news agency that shelling was reported from at least three suburbs. The report cannot be verified.
Activists say about 1,650 civilians have been killed and ten of thousands arrested across Syria since the anti-government demonstrations began in March.
The UN Security Council recently issued a statement condemning the crackdown.
"In a phone conversation with President Assad of Syria today, the secretary-general expressed his strong concern - and that of the international community - at the mounting violence and death toll in Syria over the past days," said UN spokesman Martin Nesirky.
He said Mr Ban "reflected to the Syrian president the clear message sent by the Security Council and urged the president to stop the use of military force against civilians immediately".
Turkish concern
Mr Nesirky said the UN leader also renewed calls for Syria to allow missions from international humanitarian agencies and the UN High Commissioner for Human Rights.
There has so far been no response from the Syrian government.
In another development, Turkish Prime Minister Recep Tayyip Erdogan said Foreign Minister Ahmet Davutoglu would visit Syria on Tuesday.
He said Turkey could not "remain a spectator" to events across the two countries' long shared border.
"We have reached the end of our patience and that is why I am sending the foreign minister to Syria on Tuesday," Mr Erdogan was quoted as saying by the Anatolia news agency.
"He will have talks there during which he will convey our messages with determination," he said.
He added: "We do not consider the problems in Syria a question of foreign policy but a domestic matter."
On Friday, the US, French and German leaders condemned Mr Assad's use of force to quell unrest and said they were discussing "new measures" against Damascus.
The statement followed further bloodshed across Syria as security forces cracked down hard on protests following Friday prayers.