Jordan's King Abdullah welcomes limited reform plans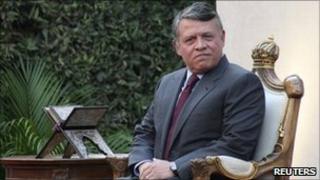 King Abdullah of Jordan has said proposals for limited reform of the constitution are a sign of political maturity among Jordanians.
The proposals, presented to the king on Sunday, include the limited transfer of some powers to parliament.
King Abdullah assigned a panel to draw up the reforms in April, as pro-democracy protests swept the region.
But activists say the 42 proposals do not go far enough and are demanding the right to elect the prime minister.
Both the prime minister and cabinet are currently appointed by the king. In June he promised to relinquish this right but warned that sudden change could lead to "chaos and unrest".
At a ceremony in Amman on Sunday, he said the "historic constitutional revisions reflect the high level of political maturity among Jordanians".
The measures would give parliament marginally more power, ensuring that if the Lower House is dissolved elections must be held within four months instead of the current two years.
Also among the proposals are for a constitutional court to be set up to oversee and safeguard legislation, and for a new independent commission to oversee elections.
The controversial military courts would only try terrorism and espionage cases and not those involving finance and corruption.
The panel also recommended the lowering of the age limit for parliamentary candidates from 35 to 25, "to reinforce the role of youth in public and parliamentary life".
'Insufficient'
King Abdullah said he hoped the reforms would be passed by parliament within a month.
"We hope to institutionalise citizen activism and effective public participation in the legislative process as well as the formation of governments," he said.
But the BBC's Dale Gavlak in Amman said Jordan's young activists, who have been inspired by revolts in Tunisia and Egypt, want greater government accountability and new economic policies. They say the proposals tackle none of these issues.
"This is part of the government's gimmicks to block real reforms," 28-year-old electrician Wael Atout told the Associated Press news agency.
"The changes are insufficient - we said we want to be able to elect our prime ministers."
Jordan, a key ally of the US, has not experienced the sort of turmoil which has been seen in Syria, Yemen and Bahrain in recent months.
However there have been small protests, in which one person has died, calling for greater democracy and action on high unemployment and the rising cost of living.