Libyan interior minister 'flies to Egypt'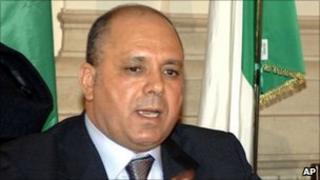 Libya's interior minister has arrived in Egypt on an unannounced holiday with nine members of his family, officials at Cairo airport say.
Nasser al-Mabruk arrived on a special plane from Tunisia and told Egyptian officials that he was "on a tourist visit", the sources said.
The visit has led to speculation of a possible defection from Col Muammar Gaddafi's inner circle.
It comes as rebel fighters advance on Col Gaddafi's stronghold in Tripoli.
Although the capital is not under immediate threat, rebel forces are now in their strongest position since the uprising began in February against 41 years of Gaddafi rule.
After a weekend of heavy fighting, the rebels say they have taken control of Sorman, west of Tripoli, and Gharyan to the south.
They are reportedly advancing against government forces in the key oil town of Zawiya, just 30 miles (50km) west of Tripoli.
Earlier on Monday, Libyan state television aired an audio message from Col Gaddafi that urged his supporters to take up arms against the rebels and the Nato military alliance.