Hosni Mubarak trial: Reaction to judge's rulings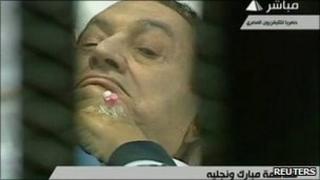 People have been giving their reaction to the latest developments in the trial of former Egyptian President Hosni Mubarak.
Adjourning the case for three weeks, Judge Ahmed Rifaat said Mr Mubarak should be jointly tried with former Interior Minister Habib al-Adly who is also charged with conspiring to kill protesters.
The judge also suspended live television coverage of the trial, saying the move was in the public interest.
However, it has angered some who demand greater transparency. Here is a selection of views from contacts in Cairo and participants of a debate run by BBC Arabic's interactive team.
Abu Firas, BBC News website reader, UAE
The judge doesn't have a right to block live coverage of the coming sessions. Everyone must know what's happening behind the scenes.
I don't understand what made him decide to block transmission though many, including myself, will assume that it's for the case to be wrapped up far away from camera lenses. I hope the blood of martyrs doesn't go to waste.
Mohamed Gomma, brother of man killed during uprising
We need to have either television broadcasts or court attendance permits. We have to attend the trials so families of the victims know exactly what is happening in there.
Gamal Eid, lawyer for several families of those killed
The court's decisions were good and actually these are the correct procedures to ensure fairness.
To join Mubarak's trial with that of al-Adly will undo the mistake that was made before in separating them.
According to the law, it was also right to remove the media from court at this stage because witnesses should not be able to hear each other giving evidence.
We wish that proceedings could be fully open to the public but we understand the principles that the judge is invoking here.
Abu Ahmed, BBC News website reader, Egypt
Mubarak's trial is necessary for a number of reasons:
1- Cementing the foundations of justice because we cannot build a just country on injustices.
2- Exacting justice for the sake of those who sacrificed their lives and livelihoods for democracy. Their pursuit cannot end in futility.
Khaled Abdulhamid, activist for families of those killed
I was confident of the independence of the court and its workings but now I believe there is a danger this case will start to take on a more political shape.
At the same time I believe that pressure on the military council from the streets and relatives of the martyrs must continue to ensure that justice is served.
If we don't keep up protests then proceedings could drag on. In terms of the openness of the court, this is a matter for the lawyers. We trust the big names who were recommended to represent the victims' families.
Mohamed Fawzi, BBC News website reader, Cairo
I think the trial will be a milestone in the revolution's journey. If public prosecutors are able to prove what we all believe and show that Mubarak was responsible, it will push Egypt and other Arab revolutionaries forward and will be the birth of just states.