Syrian troops fire on Latakia for fourth day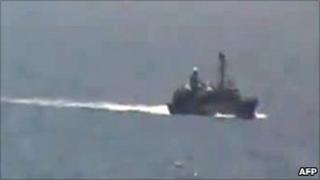 Syrian troops have opened fire on areas of the port city of Latakia for a fourth day, residents and activists say.
They say the assault has so far claimed at least 34 lives.
The crackdown on Latakia began on Saturday, a day after mass demonstrations against President Bashar al-Assad's regime.
It has continued despite growing international condemnation of the Syrian government.
The protests in Latakia are part of a broader uprising that has developed across the country since March.
Areas of the city of 600,000 are dominated by President Assad's minority Alawite community, and the assault has been focused on Sunni-dominated neighbourhoods.
'Used to gunfire'
One witness told Reuters news agency that heavy machine-gun fire and explosions on Tuesday had hit the poor neighbourhoods of al-Ramel and al-Shaab - which had also been targeted on Monday.
"We have become used to sleeping and waking up to the sound of gunfire every day," another resident told AFP news agency.
"The shooting usually comes from security forces based on rooftops of the surrounding schools."
Another resident, Tariq, said they had had their electricity cut and landlines severed.
At least 5,000 Palestinian refugees have been forced to flee a camp in al-Ramel amid the crackdown, according to the UN's Palestinian refugee agency UNRWA.
A spokesman for the agency, Chris Gunness, reiterated an appeal to be granted access to the area on Tuesday, telling the BBC that the situation was "extremely worrying".
Witnesses say security forces have used tanks and gunboats to bombard the city. The government has denied attacking from the sea.
Overall, more than 1,800 people have died and more than 30,000 have been detained across the country in the past five months, activists say.
Mr Assad has blamed the unrest on "armed gangs" and "terrorists".
On Tuesday, state news agency Sana said troops were pulling out of the eastern city of Deir al-Zour after "ridding the city of the armed terrorist groups".
Syrian forces launched an operation in the city - the capital of an oil-producing region - earlier this month.
'Sensible' operation
One activist told Reuters that snipers remained on rooftops in Deir al-Zour and that the military was storming the homes of opponents of the government in surrounding villages.
Residents said a 16-year-old boy had died after being fired on by security forces after prayers.
"The army conducted a quick and sensible operation in Deir al-Zour in order to restore stability and calm at the request of residents," an army officer told an AFP journalist on a government tour.
As the government campaign to end protests has continued, international criticism of Mr Assad's regime has increased.
On Tuesday, British Foreign Minister William Hague said in a statement that Mr Assad was "fast losing the last shreds of his legitimacy".
"He must stop the violence immediately," he added.
US Secretary of State Hillary Clinton has meanwhile encouraged Syria's neighbours to call for Mr Assad's departure, but indicated that the US was not ready to make the same demand.
"It's not going to be any news if the United States says Assad needs to go," OK, fine. What's next?" Mrs Clinton said, during an appearance with Defence Secretary Leon Panetta.
"If Turkey says it, if King Abdullah (of Saudi Arabia) says it, if other people say it, there's no way the Assad regime can ignore it," she added.
Turkish Foreign Minister Ahmet Davutoglu called on Monday for an immediate end to the attack on Latakia - though he did not spell out what consequences there might be if it continued.

Syria's anti-government protests, inspired by events in Tunisia and Egypt, first erupted in mid-March after the arrest of a group of teenagers who spray-painted a revolutionary slogan on a wall. The protests soon spread, and the UN says 3,500 people have died in the turmoil - mainly protestors but also members of Syria's security forces - while thousands more have been injured.
Although the arrest of the teenagers in the southern city of Deraa first prompted people to take to the streets, unrest has since spread to other areas, including Hama, Homs, Latakia, Jisr al-Shughour and Baniyas. Demonstrators are demanding greater freedom, an end to corruption, and, increasingly, the ousting of President Bashar al-Assad.
The government has responded to the protests with overwhelming military force, sending tanks and troops into towns and cities. Amateur video footage shows tanks and snipers firing on unarmed protesters. There may have been an armed element to the uprising from its early days and army deserters have formed the Free Syrian Army.
Some of the bloodiest events have taken place in the northern town of Jisr al-Shughour. In early June, officials claimed 120 security personnel were killed by armed gangs, however protesters said the dead were shot by troops for refusing to kill demonstrators. As the military moved to take control of the town, thousands fled to neighbouring Turkey, taking refuge in camps.
Although the major cities of Damascus and Aleppo have seen pockets of unrest and some protests, it has not been widespread - due partly to a heavy security presence. There have been rallies in the capital - one with an enormous Syrian flag - in support of President Assad, who still receives the backing of many in Syria's middle class, business elite and minority groups.
The Assad family has been in power for 40 years, with Bashar al-Assad inheriting office in 2000. The president has opened up the economy, but has continued to jail critics and control the media. He is from the minority Alawite sect - an offshoot of Shia Islam - but the country's 20 million people are mainly Sunni. The biggest protests have been in Sunni-majority areas.
The uprising has cost 3,500 lives, according to the UN and Jordan's King Abdullah says that President Assad should now step down. The Arab League has suspended Syria's membership and voted for sanctions. The EU has frozen the assets of Syrian officials, placed an arms embargo on Syria and banned imports of its oil. But fears remain of Syria collapsing into civil war.
BACK
{current} of {total}
NEXT