Bahrain profile - Media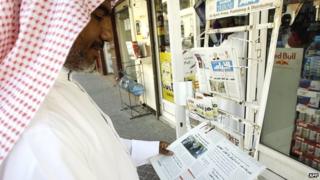 Bahraini journalists risk prosecution for offences which include "undermining" the government and religion. Self-censorship is widespread.
Journalists were targeted by officials during anti-government protests in 2011. In 2014, RSF described Bahrain as the "kingdom of disinformation", stating that since the protests the monarchy has been "a past master in the art of manipulating coverage of the street protests and the ensuing crackdown."
The government uses the 2002 Press Law to restrict the media from publishing criticism of Islam or the king, inciting actions that undermine state security, or supporting regime change. Maximum punishment is five years in prison and some well-known journalists and bloggers are currently behind bars.
TV remains the key source of news for Bahrainis and most domestic broadcasters are state-run. However, Bahrain will host the Saudi-financed Al-Arab satellite news TV channel, expected to launch soon. It will be based at a planned 'Media City'.
An opposition satellite station, Lualua TV, operates from London but has found its signals blocked.
The Gulf state has advanced telecommunication infrastructure and is widely connected to the internet. There are almost 1.3 million internet users (internetlivestats.com).
RSF has added Bahrain to its list of "Enemies of the Internet". Rigorous filtering targets political, human rights, religious material and content deemed obscene. Bloggers and online activists have been imprisoned, arrested and intimidated by the authorities.
Freedom House say "surveillance of online activity and phone calls is widely practised, and officers at security checkpoints actively search mobile phones for suspicious content."
BBC World Service is available on FM in Manama (101 MHz in English; 103.8 in Arabic).
The press
Television
Bahrain Radio and Television Corporation (BRTC) - state-run; operates five terrestrial TV networks
Al-Ayyam TV - pro-government, Manama-based
Al-Ittihad TV - pro-government
LuaLua TV - pro-opposition, London-based, blocked in Bahrain
Radio
Bahrain Radio and Television Corporation (BRTC) - state-run; operates General Programme in Arabic, Second Programme featuring cultural and local programmes, Holy Koran Programme, Sports Service, English-language Radio Bahrain
Voice FM - private, for Indian listeners
News agency/internet