Iran profile - media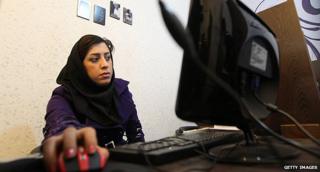 The struggle for influence and power in Iran is played out in the media.
All broadcasting from Iranian soil is controlled by the state and reflects official ideology. There is a wider range of opinions online and in the press.
Iran is "among the five biggest prisons in the world" for media workers, says Reporters Without Borders.
Television is the leading medium. State-run Islamic Republic of Iran Broadcasting - IRIB - operates national and provincial services. Its international networks include English-language Press TV. The most-watched domestic network is IRIB's youth channel.
Despite a ban on using satellite equipment, foreign TVs are widely watched; this is largely tolerated by the authorities.
Dozens of Persian-language stations broadcast from the USA, Europe and Dubai.
Western broadcasters, including BBC Persian TV, target Iranian audiences. Their satellite broadcasts have suffered from deliberate interference from within Iran.
IRIB's radio channels include a parliamentary network, Radio Koran and a multilingual external service.
There are some 50 national dailies, but few Iranians buy a newspaper every day. Sports titles are the biggest sellers.
Iran online
There were 44.8 million internet users by December 2014, comprising more than 57% of the population (InternetWorldStats.com).
The web is the main forum for dissident voices and news sites often have strong political leanings.
The authorities routinely block or filter websites they consider objectionable. Targeted content includes that deemed to be pornographic or anti-Islamic.
In 2015 US-based Freedom House ranked Iran as the third-worst country (after China and Syria) for internet freedom.
Facebook, although blocked, is among the most popular social media platforms. Twitter is blocked for ordinary citizens, but leaders and senior officials are active on it.
Instagram is a staple of social media life and Iranians are avid users of mobile messaging services, including Viber, WhatsApp and Telegram.
The press
Television
Radio
News agencies