Iraq profile - leaders
President: Fuad Masum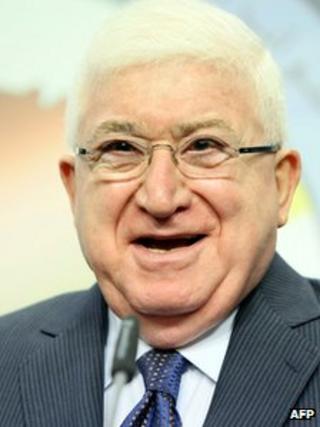 Veteran Iraqi politician Fuad Masum was overwhelmingly elected by parliament in July 2014. He is the second ethnic Kurdish president of Iraq, succeeding Jalal Talabani.
Born in 1938, he is the son of Sheikh Mulla Masum, a former head of the Association of Muslim Scholars in Kurdistan, and belongs to an established political dynasty with Muslim clerical links.
A former law lecturer, President Masum is a founding member of Mr Talabani's Patriotic Union of Kurdistan, and served as its envoy in Syria and Britain before becoming prime minister of the Iraqi Kurdistan region in 1992.
He went on to be speaker of the Iraqi parliament in 2004-2005, following the fall of Saddam Hussein.
President Masum is well-connected with parties and groups across the Iraqi political spectrum.
Prime Minister: Haider al-Abadi
A veteran politician from the Shia State of Law party, Mr al-Abadi was deputy speaker of parliament when President Masum asked him to form a government in the summer of 2014.
Outgoing prime minister Nouri Maliki initially opposed the appointment of his party colleague as a "coup", but gave in when Shia community leaders and the US backed Mr al-Abadi.
Mr al-Abadi heads a cabinet with Sunni and Kurdish support, something Mr al-Maliki lacked.
Improved relations between the Iraqi and Kurdish leaderships made possible the signing of a deal in December 2014 on sharing Iraq's oil wealth and military resources.
It was hoped this would help build the consensus needed to enable the country to face the common threat represented by Islamic State, which by the end of 2014 had advanced into northern and central Iraq.
Enduring public discontent with the government's performance, in particular over frequent power cuts, prompted Mr al-Abadi to launch a programme of reforms in the summer of 2015. Parliament unanimously approved measures to streamline the administration, fight corruption and prioritise competence over sectarian quotas.
Mr al-Maliki was prime minister from 2006, and alienated Kurds and Sunnis with his firmly Shia orientation.
He failed to hold back the jihadist insurgents after US troops left in 2011, and lost support after Islamic State captured Mosul and moved on central Iraq in the summer of 2014.