Bahrain unrest: Rights panel closes office after clash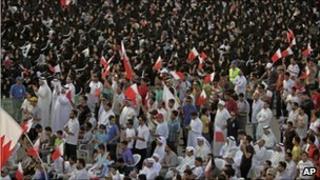 An international commission probing the recent unrest in Bahrain has closed its doors after a crowd stormed its office in Manama and clashed with staff.
They were angered by media reports that the panel had cleared the authorities of committing abuses during a crackdown on protests in February and March.
More than 30 people died in the unrest.
The Bahrain Independent Commission of Inquiry (Bici) insists that no conclusions have been reached and that the investigation is continuing.
In a statement posted on its website, Bici said it would "not allow itself to be used as a political tool" by either side.
It said some media outlets had "misrepresented the comments" of the commission chair Cherif Bassiouni, an Egyptian-born professor of international criminal law and a former member of the UN human rights panels.
Threatening texts
It added that a crowd had forced its way into their office in response to a campaign by an activist group. Some people shouted insults, posted threatening messages on the office walls, and sent threats via text and email.
It said the office closure was temporary, and that individual appointments would be made to take testimony about alleged human rights abuses.
Demonstrators - mainly from Bahrain's majority Shia population - have been calling on the Sunni monarchy to implement political and social reform.
The Gulf kingdom's Shia community makes up about 70% of the population but many say they are discriminated against when it comes to jobs, housing and political representation.
King Hamad Bin Issa al-Khalifa recently accepted some limited reforms drawn up by a government-backed committee, but opposition leaders have dismissed the measures as inadequate.
He has also appointed the five-member Bici commission - which includes international judicial and human rights experts - to probe alleged abuses and report back on 30 October.
After thousands took to the streets to demand fairer political representation in February, security forces opened fired on demonstrations at Pearl Roundabout in the capital, Manama.
Then in March, King Hamad called in troops from neighbouring Sunni Gulf states to crush the protests.
Hundreds of opposition supporters have been jailed and put on trial, amid reports of widespread torture and abuse by Bahraini security forces. At least four protesters have died in custody.