Palestinian territories profile - Media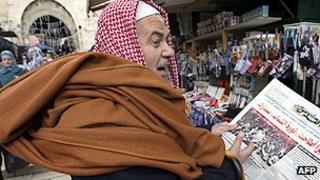 Television is the key source for news and information in the Palestinian areas.
The Palestinian media environment reflects the struggle between Fatah, which controls the West Bank, and Hamas, which controls the Gaza Strip.
The key broadcasting outlets are the Palestinian Authority's PBC and Hamas's Al-Aqsa Media Network, each of which has its own satellite TV, terrestrial TV and radio station. There are 30 private terrestrial TV channels and at least 35 radio stations. Newspapers include pro-Palestinian Authority titles and a pro-Hamas daily. Pan-Arab satellite TVs, including Qatar's Al-Jazeera, are popular.
The Fatah-Hamas conflict has complicated an already-difficult environment for journalists, making the Palestinian territories among the most dangerous places to work. Attacks on journalists are commonplace. Journalists are subject to intimidation by the Israeli military, though to a lesser degree than by Fatah and Hamas. Self-censorship is widespread. Reporters Without Borders ranked the Palestinian Territories 163 out of 173 countries in its 2008 Press Freedom Index.
The Palestinian Central Bureau of Statistics puts internet penetration at close to 50 per cent of households (2014 figure). The Internet World Stats website puts it somewhat higher, at just over 60 per cent.
The territories still suffer from a lack of infrastructure, in addition to the control of routing of most of their communications through Israel. This, and internet connection costs, remain the two biggest obstacles, according to the Palestinian Centre for Development and Media Freedom.
Mobile internet has increased recently with the introduction of services by the two mobile operators Jawwal and Wataniya. Despite this, 3G and 4G services are yet to be rolled out due to the requirement for Israeli approval.
The press
Radio
Television
News agencies