Saudi Arabia profile - Leaders
Head of state, prime minister: King Salman bin Abdulaziz al-Saud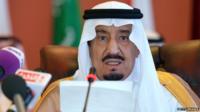 Saudi Arabia has been ruled since its foundation by the Al-Saud dynasty.
King Salman bin Abdulaziz al-Saud ascended the throne in January 2015 following the death of his half-brother, King Abdullah.
He was Abdullah's crown prince and had taken on some of the ailing king's responsibilities.
On becoming king he named his half-brother Muqrin as his crown prince and heir, rapidly moving to forestall any fears of a succession crisis at a time Saudi Arabia faced unprecedented turmoil on its borders.
King Salman, thought to be 79 at the time of ascending the throne, had been governor of Riyadh province for 48 years before becoming defence minister in 2011 and crown prince a year later.
He has been part of the ruling clique of princes for decades and is thought likely to continue the main thrusts of Saudi strategic policy, including maintaining the alliance with the United States and working towards energy market stability.
Abdullah pushed through cautious changes while in power, challenging conservatives with moves such as including women in the Shura Council, an advisory body.
As Riyadh governor, Salman was reputedly adept at managing the delicate balance of clerical, tribal and princely interests that determine Saudi policy, while maintaining good relations with the West.
Recent years have seen concerns over his health after operations on his back.