Jaar mosque strike: Yemen air raid 'kills civilians'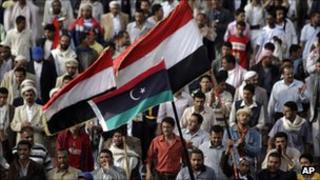 A mistaken Yemeni air force raid on a mosque in the country's south has killed seven civilians, reports say.
The strikes, targeting suspected militant positions in Jaar, also hit a local hospital and a police building, local officials told AFP.
Yemen's armed forces have been trying to drive out Islamist militants with alleged al-Qaeda links from the region.
President Ali Abdullah Saleh has been out of the country since a June assassination attempt.
Militants 'strengthened'
Speaking on condition of anonymity, a local official told AFP: "The air force hit the Grand Mosque in Jaar whereas the target was a small mosque held by suspected al-Qaeda militants."
The planes also bombed Jaar hospital where militants were believed to be treating their comrades, the official was quoted as saying. It is not known how many militants - if any - were killed.
Militants have used the continued unrest in Yemen to strengthen their position in the country's south, correspondents say.
Towards the end of 2009, crackdowns on al-Qaeda-linked militancy in Afghanistan and Pakistan raised fears that Yemen was becoming a key alternative training centre for militants, analysts suggest.
Mr Saleh has said he would return from Saudi Arabia, where he and several aides are receiving medical treatment for injuries sustained in a bomb attack in June.
Yemen has been paralysed by months of protests against his 33-year rule.