Mubarak trial: Egypt military ruler Tantawi to testify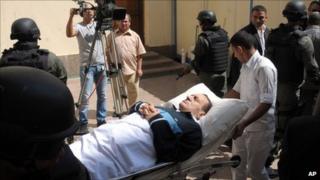 Egypt's military ruler has been summoned to testify in the trial of former President Hosni Mubarak.
Field Marshal Mohamad Tantawi, Mr Mubarak's former defence minister, now runs Egypt's ruling military council.
Also summoned are the military chief of staff and Omar Suleiman, Mr Mubarak's vice-president and intelligence chief.
Mr Mubarak, 83, faces charges of ordering the shooting of protesters during the uprising that ousted him in February. He denies the charges.
'Uncivilised' proceedings
There were chaotic scenes in court, the BBC's Bethany Bell reports from Cairo, with anti-Mubarak protesters chanting "revenge, revenge," and calling for Field Marshal Tantawi to give evidence.
Many Egyptians argue that the testimony of senior officials will be key to determining whether Mr Mubarak ordered the use of lethal force.
But the closed sessions, to start on Sunday, will keep details about the relations between these top figures secret, the AP news agency reports.
Earlier in the day, a source inside the trial told the BBC that one of the witnesses, a senior police official, was arrested for changing his evidence. The officer had originally told lawyers that he was given orders to use live ammunition on demonstrators in Egypt's uprising - something he denied on the stand.
Relatives of those who died yelled abuse at Mr Mubarak, who was lying on his stretcher in the defendants' cage, our correspondent says. The judge called their behaviour uncivilised.
Outside the court there were small, largely peaceful protests. Security was tightened after Monday's session descended into scuffles both inside and outside the Cairo courtroom.
At Monday's hearing, none of the witnesses who testified implicated Mr Mubarak in the deaths of protesters during the revolution against his three-decade autocratic rule.
Some 850 people were killed during the 18-day uprising in Cairo's Tahrir Square in January and February.
The victims' families want to know what orders Mr Mubarak gave to his officials as police tried to stop the mass protests that resulted in the president's resignation on 11 February.
The trial of Mr Mubarak and his sons Gamal and Alaa has been merged with that of former Interior Minister Habib al-Adly, who is also accused of ordering the killing of protesters.
All the defendants deny the charges.