Syria unrest: Homs raid as Arab League visit called off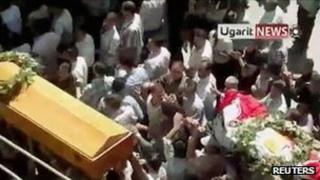 Syrian forces have launched a fresh assault on the city of Homs, killing up to seven people, activists say.
Most phone lines and the internet have been cut, the city centre is sealed off, and gunfire is being heard in several areas, residents say.
More than 2,200 people have been killed in five months of protest against the rule of President Bashar al-Assad.
The renewed crackdown in Homs comes just hours after Syria called off a visit by the Arab League chief.
The government gave no explanation for the postponement of Secretary-General Nabil al-Arabi's trip, other than to say it was for "objective reasons".
The League has called for an end to the violence and spoken of the Syrian people's legitimate aspirations for social and political reform.
The Assad government insists that the protests are being organised by "terrorist cells" who are being armed and funded by an international conspiracy against Syria.
Homs - Syria's third-largest city - has seen rolling violence for months.
'Non-stop gunfire'
Wednesday's large-scale security operation in the city involved tanks, troops and heavy gunfire, activists and locals said.
"All through the night, there was shooting. The gunfire didn't stop," a resident of the city told the Associated Press news agency by phone. "I can't tell exactly what is going on because it's too dangerous to go out," he added.
The UK-based Syrian Observatory for Human Rights said seven people were killed and 20 others wounded in the operation.
The latest reports suggest that Sunni parts of the city were targeted, reports the BBC's Owen Bennett Jones reports from Beirut in neighbouring Lebanon.
Most of Syria's ruling establishment are Alawites, and Alawites also dominate the security forces, says our correspondent. Activists have previously reported the death of several Alawite residents in apparent revenge killings in the restive western city.
They have also reported an increasing number of defections among the mostly Sunni rank and file military in Homs and its surrounding countryside, but Syrian officials deny the claims.
The government insists that it has a reform programme in place, but opposition leaders say there can be no free and fair elections while the ruling Baath party is in power.
They have also refused to negotiate while it continues to kill peaceful protesters.
The postponement of the Arab League chief's visit once again shows how difficult a negotiated settlement to Syrian prolonged crisis will be, says our correspondent.
Newspaper reports suggested that Mr Arabi had some quite specific proposals, including the establishment of a multi-party government within three years.
The government crackdown has led to broad international sanctions against the regime, including a ban on the import of Syrian oil, a major source of revenue for the country.