Mubarak trial: Ruler Tantawi 'too busy' to testify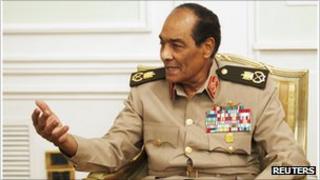 Egypt's military leader Field Marshal Mohamad Tantawi has said he is too busy dealing with security issues to take the stand at Hosni Mubarak's trial.
Testimony from Field Marshal Tantawi - defence minister under the ex-president - had been highly anticipated.
The judge postponed his appearance until 24 September.
The Israeli embassy in Cairo was attacked on Friday amid a mass protest by Egyptians demanding faster political reforms from the military council.
The incident prompted Israel to recall its ambassador and has strained ties between the two countries.
Changing evidence
Field Marshal Tantawi had been expected to give evidence behind closed doors.
His testimony could be crucial in showing whether or not Mr Mubarak ordered the shooting of protesters, and whether or not the Egyptian army were also implicated, the BBC's Jon Leyne in Cairo reports.
Mr Mubarak, 83, denies the charges.
Testimony from the military chief of staff Sami Annan was also adjourned, until 24 September.
The decision is likely to anger the Egyptian opposition, our correspondent says.
They have already been complaining that the Egyptian authorities are playing for time, deliberately delaying the trials of Hosni Mubarak and other former officials.
Many Egyptians argue that the testimony of senior officials will be key to determining whether Mr Mubarak ordered the use of lethal force.
But senior police officials who took the stand last week failed to implicate the former president in the deaths of protesters.
One of the witnesses was arrested for changing his evidence. The officer had originally told lawyers he was given orders to use live ammunition on demonstrators in Egypt's uprising - something he denied on the stand.
Some 850 people were killed during the 18-day uprising in Cairo's Tahrir Square in January and February.
The victims' families want to know what orders Mr Mubarak gave to his officials as police tried to stop the mass protests that resulted in the president's resignation on 11 February.
The trial of Mr Mubarak and his sons Gamal and Alaa has been merged with that of former Interior Minister Habib al-Adly, who is also accused of ordering the killing of protesters.
All the defendants deny the charges.
Israeli Prime Minister Benjamin Netanyahu said Israel would stick to its peace treaty with Egypt despite the attack on its embassy in Cairo, which prompted the evacuation of nearly all Israeli diplomatic staff.
"Israel will continue to hold fast to the peace accord with Egypt," Mr Netanyahu said in a televised address in Jerusalem.
Egypt is on alert after the attack on the embassy, in which three people died as security forces fought rioters in Cairo.