Syria unrest: Arab League urges end to bloodshed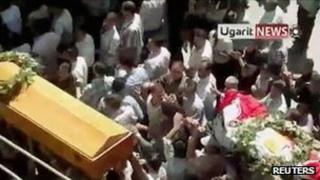 The Arab League has called for an "immediate" end to the bloodshed in Syria, in a statement issued at the end of a meeting in Cairo.
It also wants Syria to use dialogue, not arms, to address the country's five-month-old rebellion.
Until that happens, the Arab League will not send a fact-finding mission, as suggested by the Syrians.
Syrian security forces launched new raids on areas outside the capital, Damascus, before dawn, reports say.
Qatari Foreign Minister Sheikh Hamad bin Jassim al-Thani said Syria must stop its "killing machine" and pull its army out of cities, in remarks at the end of the Arab League meeting.
"We cannot accept this killing machine. We cannot allow people to be killed this way," he told a news conference.
"The army must withdraw from inside the cities so that we can start talking about a dialogue between the people and the government," he said.
On Saturday, Arab League Secretary General Nabil al-Arabi said he had agreed with Syrian President Bashar al-Assad on steps aimed at ending months of violence and urged him to speed up reform plans.
On Tuesday activists reported fresh raids on anti-government protesters.
In addition to the raids near Damascus, the Syrian Observatory for Human Rights reported one death in Deir al-Zour province and five injuries in Houla in Homs province.
The Local Coordination Committees group said 34 people were arrested in the town of Zabadani, 50km west of Damascus.
According to the UN, more than 2,200 people have been killed in Syria since anti-government protests began more than five months ago.
The government says hundreds of its personnel have been killed.
Foreign reporters are not being allowed in to Syria so news organisations are largely dependent on unverified amateur video and reports by rights groups.
The international community has urged the Syrian president to stop targeting civilians.
The government insists that it has a political reform programme in place, but opposition leaders say there can be no free and fair elections while the ruling Baath party is in power.