Fogel murders: Israeli court sentences Hakim Awad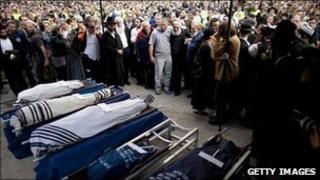 A Palestinian man has been sentenced to five life prison terms for the murder of five members of a Jewish family living on a West Bank settlement.
Hakim Awad confessed to murdering Udi and Ruthie Fogel and three of their children, one just three months old, in the Itamar settlement in March.
In their ruling on Tuesday, judges called the attacks "a monstrous act" and said Awad expressed no regret.
A relative, Amjad Awad, is still standing trial for the murders.
The charge sheet alleged that the two acted of their own free will, though they are members of the Popular Front for the Liberation of Palestine.
An Israeli military court delivered the verdict on 18-year-old Hakim Awad on Tuesday.
Two Fogel children were unharmed in the attack, which was discovered by another child, 12-year-old Tamar Fogel, when she returned home.
The murders shocked Israelis and were also condemned by Palestinian leaders and the international community.