Israeli-Arab militant cell held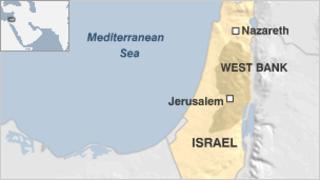 Israeli authorities say they have arrested five suspected members of a home-grown militant cell allegedly planning to carry out attacks.
A statement from internal security service Shin Bet said the Israeli-Arabs wanted to attack a police post, as well as a soldier and a policeman.
It alleged that the attacks were planned in their village of Daburiyya, just east of Nazareth, in Galilee.
A lawyer for the men was quoted as dismissing the allegations.
Shin Bet said the men were part of "the Salafist jihadist stream", and had been looking at materials on how to make improvised explosive devices (IEDs).
But their lawyer Abed al-Malek Dehamshe said the whole case was "no more than rumours", and that police had made "a mountain out of a molehill", Israel's Ynet reported.
The father of one of the suspects was also quoted as denying the accusations.
Israeli-Arabs comprise about 20% of Israel's population. Of Palestinian Arab descent, they remained in Israel after its creation in 1948.