Turkey and the Arab world: Reflections from the region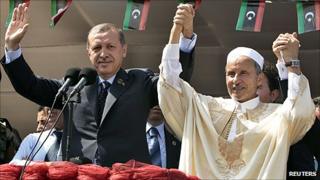 The Turkish Prime Minister, Recep Tayyip Erdogan, is completing a tour of the three Arab countries that have recently experienced revolutions. Here, people from each of those countries reflect on the tour and Turkey's role in the Arab world.
Zied Mhirsi, blogger, 33, Tunis, Tunisia
Erdogan has impressed a lot of Tunisians by standing up for Arabs in foreign policy.
For now Turkey is the leader of the Arab world because there is no-one else to claim the crown.
Over the last few years a lot of Turkish companies have been coming to Tunisia. You can see more and more Turkish products here.
People feel closer to Turkey than to EU countries because it is easier to travel there. Turkey is the only European country for which Tunisians do not need a visa.
Personally I am impressed with the growth in Turkey. I've been to the country several times. I have admiration for how they have helped the poorest.
Erdogan's party has kept the country looking modern and dynamic, and at the same time looking back to its roots in political Islam
In Tunisia there is some concern from secular people about the rise of Islamists. But if the Islamists are like the Turks then we can be reassured.
Mohamed Benrasali, 46, local council, Misrata, Libya
Erdogan's visit is important. But the Libyan people have not forgotten that the Turkish government was in two minds about whether to support the revolution. That has not gone down well. I was very hurt by their stance.
So we have mixed feelings, and there is an air of mistrust about their intentions. Turkey has many companies in Libya and we feel they are trying to preserve their interests here.
Can Turkey be an example for us? We are very moderate Muslims and I do not think we have much to learn from Turkey. And for us, Turkey is too secular.
I think a new Arab world is emerging - look at the protests at the Israeli embassy. The Arab people are starting to have a voice. And nobody leads the Arab world but Egypt.
I hope that we will keep ourselves moderate, and keep to Islamic values of peace and reconciliation, truth and fairness.
Noha Zaki, 35, corporate trainer, Cairo, Egypt
Erdogan has a potential role in the Arab world, and has some qualities missing from Arab leaders - such as an ability to communicate.
Turkey can offer a model of a successful secular Muslim state. But the model is the country and not the man. I am worried by people idealising charismatic leaders - they start to follow the person rather than the argument. Egyptians should stop making heroes out of rulers.
Right now in Egypt there is tension between the forces of the revolution, between Islamists and secularists. These tensions will probably continue on the street level for many years.
Turkey offers an example of a country where religion and secularism can co-exist. It shows that you can be secular and still keep your identity and religion.
They can make a positive contribution with trade and investment. That is what I hope for, but of course I don't know what their intentions are. Ankara has a lot to gain in terms of tourism and business opportunities.