Yemen unrest: Clashes erupt in Sanaa despite truce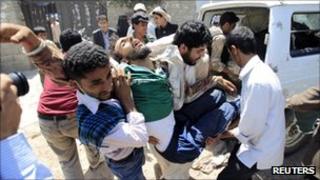 At least three people died when protesters in the Yemeni capital Sanaa were hit by sniper fire and shelling, witnesses have said, as an overnight ceasefire was broken.
Thousands amassed in a protest camp dubbed Change Square in the city centre, while funerals were held for those killed in recent days.
Witnesses said there were clashes in several parts of the city.
At least 75 people, mostly unarmed protesters, have died since Sunday.
Late on Tuesday, the vice-president agreed a truce following negotiations with western envoys who had urged an end to the violence.
The opposition - composed of protesters as well as tribal fighters - has vowed to continue its campaign against President Ali Abdullah Saleh, who refuses to hand over power.
Meanwhile, Gulf Cooperation Council (GCC) chief Abdulatif al-Zayani, who arrived in Yemen on Tuesday, has left after failing to mediate a solution to the crisis, according to Yemen's state news agency Saba.
Prayer mats
A military official from the First Armoured Brigade, commanded by dissident Gen Ali Mohsen al-Ahmar, told AFP that the shelling had targeted their headquarters, based near Change Square.
The official, who was not named, said the northern part of the square was also bombarded.
Tareq, an 18-year-old protester, told Reuters news agency he was in a tent in Change Square when he was injured by a shell.
"I was sitting in my tent when all of a sudden there was a blast through the tent and I looked down and my leg was bleeding," he said, saying he had counted four or five shells.
Earlier, gunfire rang out in an area close to the residence of the vice-president, witnesses said.
The BBC has not been able to independently verify the reports.
Earlier, mourners laid out prayer mats on a main road to pay their respects to those who had died, and carried bodies wrapped in flags.
"Shame on you if you don't avenge the blood of the martyrs... The blood of our brothers will not be spilled in vain!" one speaker said over a megaphone, Reuters reports.
'Dodging effort'
UN Yemen envoy Jamal Benomar and Mr Zayani arrived in Yemen on Tuesday in the hope of mediating a power transfer agreement.
But efforts appear to have failed, with Saba news agency citing the GCC chief as saying that a deal will only be possible "when conditions are more favourable."
The opposition accuses the government of deliberately orchestrating the violence to derail any chance of agreement.
Mohamed Qubaty, head of the opposition Yemeni National Council, said it was an attempt by the authorities to "dodge" the requirements and the views of the GCC, especially the restructuring of the army and security forces".
Ministers have consistently denied that their soldiers have targeted civilians or peaceful demonstrators, telling the BBC that the unrest was initiated by al-Qaeda-linked forces within the opposition.
Fighting died down on Tuesday night after the defence ministry said Vice-President Abedrabbo Mansour Hadi had given "strict orders for a rapid ceasefire in the capital" which he said government troops were obeying.
The past three days have been the deadliest since demonstrations against Mr Saleh first erupted in January.
Mr Saleh, who has ruled the country for more than three decades, has been in Saudi Arabia since June, when he was seriously injured in a rocket attack on his presidential compound.
He has refused to stand down and is promising to return to the country.