Syria unrest: 'Five shot dead in Homs crackdown'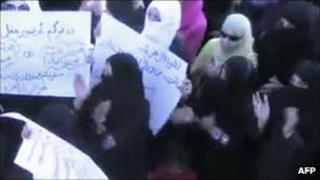 Syrian forces have killed at least five people near Homs, in the latest assault on opponents of President Bashar al-Assad's regime, activists say.
Deaths were also reported in Syria's north-west and in the city of Hama.
There have been daily reports of deaths as authorities continue to crack down on an uprising that began in March.
The violence has drawn widespread condemnation, and US President Barack Obama urged the UN Security Council to sanction the Syrian regime.
One activist group, the Local Coordination Committees (LCC), said five people had died in Homs, two in the north-western province of Idlib, one in Hama, and one in Rastan.
It also reported that dozens of students had been rounded up in the southern village of Jassem and that a girls' schools had been raided in the capital, Damascus.
Students braved a heavy security presence in the suburbs of Damascus to stage simultaneous demonstrations, the LCC said.
Another activist group, the Syrian Observatory of Human Rights, said three patients had been arrested in a hospital in Homs.
'One voice'
AFP news agency quoted activists as saying that a prominent dissident lawyer had been arrested in a courthouse in Homs, and that the parents of an internationally renowned pianist and supporter of recent protests who lives in Germany but grew up in Homs, Malek Jandali, had been attacked in their home.
At least six people were reported to have been killed by security forces in Homs and the Damascus region on Tuesday.
Events from Syria are hard to verify as international journalists have been largely prevented from reporting there.
The Syrian government has blamed the violence on "terrorists" and "armed gangs", but has become increasingly isolated.
The EU and the US have both imposed sanctions on Syria's regime. EU countries have been trying to tighten them, with stricter measures due to take effect on Saturday if approved by all 27 member states.
Turkey, formerly an ally of President Assad's, said it was also considering sanctions.
And Mr Obama told the UN General Assembly in New York: "For the sake of Syria - and the peace and security of the world - we must speak with one voice.
"Now is the time for the United Nations Security Council to sanction the Syrian regime, and to stand with the Syrian people."