Q&A: Bahrain's by-elections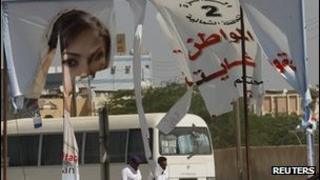 Bahrain is holding by-elections on Saturday to fill 18 parliamentary seats left vacant when deputies from the main opposition Al-Wifaq party resigned in protest at government repression of demonstrations.
Al-Wifaq represents Shia Muslims, who make up about 70% of Bahrain's native population, and is boycotting the polls on the grounds that the "election is not aimed at achieving serious results".
All other opposition parties are also boycotting.
Who is standing?
There are 74 candidates standing for 14 seats. They are either pro-government or nominally independent, given the opposition boycott. Four of the seats have already been filled, as single candidates were left when all competitors withdrew ahead of the polls.
Who can vote, where and when?
A total of 187,080 citizens are eligible to vote. There will be a second round of voting on 1 October for any constituency with no clear winner. Voting began for expatriate Bahrainis at embassies, consulates and diplomatic missions abroad on 20 September. In the event of a second round of voting, it will be held for expatriates on 27 September.
Are there any campaign restrictions?
Posters and billboards along roads are permitted, as are campaign tents. Candidates are not allowed to campaign outside their constituency borders, to use official or state election committee logos, or to campaign in the 24 hours before polls open or on election day itself.
Why the boycott?
Al-Wifaq has said it will boycott the polls as they are "staged" and will only "deepen the crisis" in the absence of any government gestures towards the opposition. Instead it has called for fresh polls under a fairer political system. Shia parties have long said that seats are gerrymandered to boost Sunni representation. To vote in the poll would be to "sell out our country and accept injustice and backwardness", the party said in a statement.
Who is monitoring the election?
The two major Bahraini civil rights groups are not going to monitor the election.
The Bahrain Human Rights Society (BHRS) board decided not to monitor the poll, which its secretary-general Abdallah al-Dirazi called an "internal issue" for the government. He said moreover the BHRS had "not yet had enough time to bounce back and carry on with its activities" after the human rights and social development ministry dissolved its board in September 2010 for "alleged legal and administrative violations" during the parliamentary elections of that year.
The Bahrain Transparency Society (BTS) failed to obtain permission to monitor the polls, according to its president, Abd-al-Nabi al-Ikri.
A pro-government group, the Bahrain Human Rights Watch Society (BHRWS), has trained about 60 volunteers to monitor polling stations. Its secretary-general, Faysal Fulad, has said "clerics and opposition groups calling for a boycott" have been making threatening phone-calls to candidates.
The state elections media committee head, Musa al-Khayri, has said much the same, and urged candidates to report people to the police.
Will there be protests?
The 14 February Revolution Youth Coalition posted a statement on its Facebook page saying that it would hold a protest at the Pearl Roundabout, the venue for previous mass demonstrations in the capital Manama, on 23-24 September to object to the "comedy of the quick-fix elections".
Ahead of the vote, the "Blockade Bahrain" online campaign called for drivers to block the roads into Manama with their cars from 21 September. The government has threatened to revoke the driving licenses of anyone who participates.
Protesters managed to slow traffic to a crawl during rush hour on Wednesday on roads leading into the capital, Manama. Al-Wifaq distanced itself from the protests, saying they were organised by youth groups.
BBC Monitoring selects and translates news from radio, television, press, news agencies and the internet from 150 countries in more than 70 languages. It is based in Caversham, UK, and has several bureaux abroad.