Yemeni capital Sanaa shaken by fresh clashes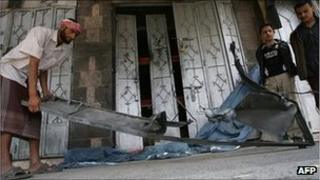 Renewed clashes have broken out in the Yemeni capital Sanaa between government troops and forces opposing President Ali Abdullah Saleh.
Reports quoting sources from both sides say at least 10 people have been killed by shelling and sniper fire.
The fighting is mostly between supporters of President Saleh and soldiers loyal to a top general who defected to the opposition in March.
More than 80 people, mostly unarmed protesters, have died since Sunday.
Medics said at least four civilians were killed when they were caught in crossfire in central Sanaa between Republican Guard troops and dissidents loyal to Gen Ali Mohsen al-Ahmar.
Another six people were killed in tribal battles that rocked the north of the city.
The Defence Ministry said four of them were killed in the shelling of the residence of a pro-government tribal leader, while Gen Ahmar's office said two of his guards were killed in the counter shelling of his home.
Laura Kasinof, a correspondent for the New York Times in Sanaa, tweeted that artillery was firing from nearby mountains.
A resident told AFP that schools, banks and businesses in the city were shut.
"The city is empty... the ghost of war looms over Sanaa," the resident said.
The BBC has not been able to independently verify the reports.
Ceasefire breaks down
The UN envoy to Yemen says the country will be torn apart unless a political solution is reached soon between opponents of Mr Saleh and his supporters.
"Unless there is a deal, or unless there is a breakthrough to a political solution... the country will continue to fall apart and violence will spread," Jalal bin Omar told the Reuters news agency.
"It's very urgent that Yemenis make up their mind and agree on a reasonable way forward."
Hopes are fading of a lasting ceasefire between the sides, to enable a reform process to take place in which President Saleh would yield power.
On Tuesday the government agreed a truce following negotiations with Western envoys.
However, the ceasefire broke down hours later and at least three people were reportedly killed by sniper fire and shelling on Wednesday.
A fresh attempt by the Gulf Co-operation Council (GCC) to mediate a solution to the crisis ended on Wednesday without success.
Activists, inspired by the Arab Spring, have been camped out for eight months in Change Square demanding an end to President Saleh's 33-year rule.
Mr Saleh is recovering in Saudi Arabia after being wounded in an assassination attempt in June.
He is refusing to transfer power and has vowed to return to Yemen.