Multiple deadly blasts in Iraqi city of Karbala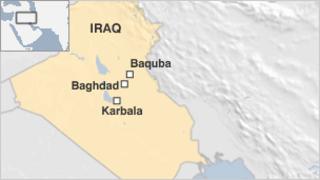 A series of bomb blasts in the Iraqi city of Karbala have left at least 10 people dead and nearly 100 wounded.
The first bomb, in a car, was detonated outside a local government office supplying identity cards and passports, officials said.
At least three other blasts occurred after the emergency services arrived at the scene, police said.
Karbala - home to one of the holiest sites in Shia Islam - has witnessed much sectarian violence in the past.
In January at least 25 people were killed and almost 70 injured by two car bomb attacks targeting Shia pilgrims.
The first of Sunday's blasts went off at 09:30 (06:30 GMT) as people were lining up outside the government building in the centre of Karbala.
Officials said 10 people had been killed and scores injured.
One witness, government employee Raed al-Assali, said he had heard the initial blast from his office.
"I rushed to rooftop of our building and I saw thick smoke rising from the blast area," he told AP. "Some people in panic were running in the nearby alleys in order to escape fire and danger."
Government official Hussein Shadhan al-Aboudi said the aim of the bombers had been to ignite sectarian tension, following an attack on a bus earlier this month which killed 22 Karbala Shia pilgrims on their way to a shrine in Syria.
"They also aim to destabilise the security situation in Karbala," he said.
Also on Sunday, two roadside bombs in Ramadi, capital of Anbar province, killed at least one person and injured six, including
The first went off at the home of Sunni tribal chief, injuring at least one girl, then a second bomb was detonated as police arrived, killing one person and injuring several police officers.
Although violence has fallen in Iraq since its peak in 2006-2007, daily attacks remain common.