Yemen leader Ali Abdullah Saleh calls for early polls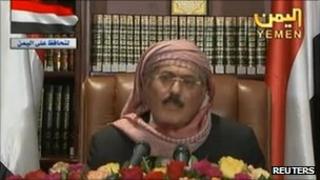 Yemeni President Ali Abdullah Saleh has said he is committed to handing over power to end months of protests against his rule.
In his first speech since returning from Saudi Arabia on Friday, Mr Saleh called for dialogue and early polls.
Mr Saleh spent three months in Saudi Arabia for treatment after an assassination attempt on him in June.
Earlier, there were more clashes between troops loyal to Mr Saleh and his civilian and military opponents.
One man was killed and others were injured in an attack by government forces on protesters in Sanaa.
"The crisis is big. You who are chasing power, let's all go to the ballot boxes," Mr Saleh said, speaking to his opponents and suggesting elections rather than agreeing to step down.
Mr Saleh's speech offered few concrete concessions to protesters who want him to step down immediately, says the BBC's Bethany Bell in Cairo.
Civil war risk
The opposition says it fears that the country could slip towards civil war if Mr Saleh continues to cling to power.
The UN Security Council has urged all parties in Yemen to stop the violence and allow more access for humanitarian aid.
Activists have been camped out in Change Square since January, demanding an end to Mr Saleh's decades-long rule.
After his surprise return to Sanaa, President Saleh called for a ceasefire to stop violence which has already claimed about 100 lives this week, mainly of unarmed anti-government protesters.
He flew back after having treatment in Saudi Arabia for injuries sustained in a rocket attack on the grounds of his presidential palace in June.