Syria unrest: West 'seeks to break up' country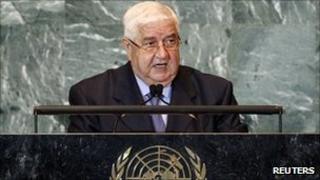 The West is trying to create "total chaos" to break up Syria, the country's foreign minister has said.
Speaking at the UN General Assembly, Walid Moualem blamed months-long anti-government demonstrations on "foreign intervention".
He said the reforms announced by President Bashar al-Assad had to take "a back seat" as a result.
Mr Bashar's government is accused of a violent crackdown that the UN says has killed more than 2,700 people.
The president denies the allegations, saying he is tackling armed gangs of terrorists.
In the latest violence, Syrian tanks bombarded a strategic town in the restive central province of Homs on Sunday night, injuring three people, activists and residents say.
'Hurting ordinary Syrians'
Addressing the UN General Assembly in New York on Monday, Mr Moulaem said foreign governments had sought to undermine the delicate balance between Syria's different religious groups.
"How can we otherwise explain media provocations, financing and arming religious extremism?" he said.
"What purpose could this serve other than total chaos that would dismember Syria?"
Mr Moulaem also said that economic sanctions recently imposed by the US and the EU were hurting "the interests and the basic daily subsistence needs of the Syrian people".
The UN Security Council has condemned the government crackdown on protests, which erupted in March.
But the council remains divided over sanctions against Mr Bashar's regime: the call for tougher action from the US and European nations is being resisted by China, Russia and other emerging nations.
On Sunday, Syrian troops fired with machine guns mounted on tanks in the town of al-Rastan in Homs provinces, activists said.
A town resident told Reuters news agency there were about 60 tanks and armoured vehicles to the east of al-Rastan.
Homs is a major flashpoint in the continuing unrest, with army defectors backing protesters opposed to President Assad's rule.
Events from Syria are hard to verify as international journalists have been largely prevented from reporting there, but the BBC's Lyse Doucet has just arrived in Damascus.
She says it is extremely hard to get people to talk about politics, except for those who still defend the president.
Mr Assad still has some support, she adds, but the brutal crackdown against protests in the suburbs, and in cites and villages outside Damascus is diminishing that base.