Gaza foreign press restrictions imposed by Hamas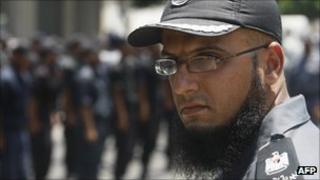 New restrictions on foreign journalists working in the Gaza Strip have been introduced by the Hamas authorities.
The Islamist movement which governs the Palestinian territory says journalists must now apply five days in advance in order to work there.
A senior Hamas official told the BBC that there appeared to have been a misunderstanding.
The new rules are not being strictly implemented yet but a BBC correspondent had trouble entering Gaza.
Arriving at Hamas-run passport control just inside Gaza on Tuesday morning, the BBC's Jon Donnison was told he needed permission from the interior ministry to be allowed in.
Permission needed to be applied for five days in advance, he was told.
He managed to get into the enclave after some delay.
Some other foreign reporters said they had also been asked to sign forms saying that if any news items critical of Hamas were published, local Palestinian journalists they work with would be held responsible.
Hamas's Deputy Foreign Minister Ghazi Hamed said the move was a misunderstanding and he would work to resolve it.
The region's Foreign Press Association has said it is seeking clarification from Hamas.
In the past it has been Israel which has sometimes made it difficult for reporters to get into the blockaded Palestinian territory, our correspondent says.