Egypt: General elections to begin on 28 November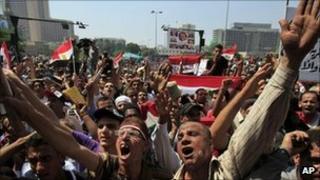 Egypt's ruling military council has named 28 November as the start date for the first parliamentary elections since the fall of President Hosni Mubarak, state media reports.
The elections are likely to be held in three stages, so the process will take more than a month.
State media had previously said the elections would begin on 21 November.
Elections to the Shura Council, or upper house, will follow, starting on 29 January, the reports say.
The Supreme Council of the Armed Forces' announcement was carried on the state news agency and television.
Following the Shura Council elections, due to end in March, a committee will draft a new constitution to replace that in place under Mr Mubarak. Presidential elections are then expected to be held.
The committee has up to six months to finish its work, meaning the presidential election might not be held until September 2012.
The BBC's Jon Leyne in Cairo says the opposition will be hoping for the first fully free elections after many decades of notoriously corrupt polls.
The opposition has been pressing the military to announce a timetable for the return of civilian rule.
Mr Mubarak was ousted from his 30-year rule after protests this year and is on trial over the deaths of demonstrators and on corruption charges.