Palestinians deny bid to remove Tony Blair from Quartet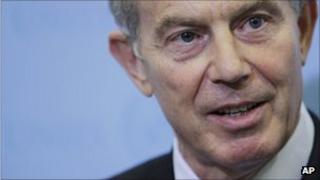 The Palestinian Authority has denied reports it will make a formal request to remove Tony Blair from his position as envoy for the Middle East Quartet.
Mr Blair, a former UK prime minister, has held the position of special envoy for four years. Palestinians see him as biased towards the Israelis.
The Quartet, made up of the US, Russia, the EU and UN, was established in 2002 to help mediate peace in the region.
There have been no direct Israeli-Palestinian talks for more than a year.
A spokesman for the PA said that while there was great unhappiness with Mr Blair's role as envoy, his removal was not a priority.
He said there were no plans to formally ask for Mr Blair to be replaced.
'Suspicion'
Much of the Palestinian leadership have long regarded the former prime minister with suspicion.
They do not see him as an honest broker for talks with Israel.
One PA official told me privately: "Mr Blair has a kippa on his head," referring to the traditional Jewish skull cap.
But a PA spokesperson said Palestinian negotiators talked to many people they did not like adding there was even more distrust of Dennis Ross, a long-time US diplomat involved in years of failed talks.
Tony Blair's office says he has no plans to quit and remains very committed to the peace process.
The Quartet recently put forward a proposal to relaunch negotiations with Israel to try and work towards a deal within a year.
Palestinians will give their official response to that proposal later on Thursday but there is much scepticism about the chances of success within a 12 month deadline.
Talks at standstill
As Quartet envoy Mr Blair has worked closely with the Palestinian Prime Minister in the West Bank Salam Fayyad. The two have pushed an agenda of building institutions for a Palestinian state.
According to his supporters, Mr Blair has lobbied hard to ease economic restrictions for Palestinians including the relaxing of Israeli checkpoints in the West Bank.
For his critics, Mr Blair's period on office has seen little progress in Israeli Palestinian relations with talks at a complete standstill.
Last week Palestinian Authority President Mahmoud Abbas submitted a request to the United Nations Security Council for Palestine to be admitted as full member state based on the pre-1967 borders.
The Security Council is currently considering the request although the United States has said it will use its position as a permanent member of the council to veto the bid.
Mr Blair has said he was not against the Palestinians' UN status being upgraded, possibly to non-member state. But he said such a move should be made alongside a return to negotiations.
The Palestinian leadership has said it will not return to talks without a complete freeze on Jewish settlement expansion in the West Bank and East Jerusalem.