Deadly bomb hits funeral near Iraqi city of Hilla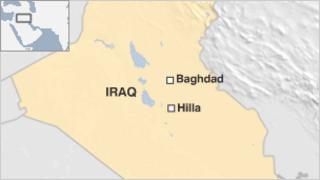 A car bomb has killed at least 17 people and wounded dozens more at a funeral near the Iraqi city of Hilla.
The blast took place at about 17:30 (14:30 GMT) outside the Nabi Ayub Shia mosque in the town of al-Khafaji, security officials told AFP.
Hilla, about 100km (60 miles) south of Baghdad, is on a route for pilgrims visiting Shia holy sites in the south.
Violence in Iraq has declined since its peak in 2006 and 2007, but attacks have continued.
The explosion hit mourners who had gathered at a funeral of a local sheikh, witnesses said, damaging vehicles.
"I was standing on the other side of the funeral tent, and suddenly the place turned into hell, all my relatives were cut down and their bodies were burned," Haider Qahtan, 37, who was injured in the blast, told Reuters news agency.
'Hit by glass'
"I heard the blast, then was hit by glass from windows and my hand was bleeding severely," said 42-year-old Mohammed Ali, who was inside the mosque when the bomb hit.
"I blame the security forces for such a horrible breach. How can such a thing happen? Where were they?" he added.
No group has said it carried out the attack but Sunni militants regularly attack Shia mosques and neighbourhoods in an attempt to stir up sectarian tension.
Parliament speaker Osama al-Nujaifi condemned the attack but blamed failings in the "security apparatus".
Correspondents say the attack is likely to raise more questions about the Iraqi forces' ability to take over control of security after US troops are withdrawn at the end of the year.
Two weeks ago, a car bomb exploded near a restaurant used by security forces in the Hilla suburb village of al-Shumali, leaving 15 dead.