Bahrain jails 14 people for murder of Pakistani man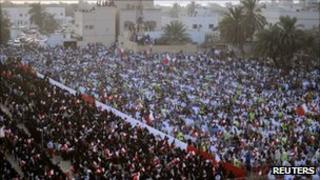 A security court in Bahrain has sentenced 14 people to 25 years in jail each for the killing of a Pakistani man during unrest earlier this year.
The prosecutor said they had been convicted of beating the man to death in March "with a terrorist aim".
Details of the killing were not disclosed to the public.
Rulings by the National Safety Court - a joint civilian and military court set up in response to the unrest - have been criticised for their severity.
In another case judged on Monday, the court sentenced 15 people to 15 years in jail after they were convicted of attempting to murder military personnel, while taking part in protests and vandalism at Bahrain University in the capital, Manama.
In a third case, involving university students, six were jailed for 15 years and a seventh was sentenced to 18 years on charges including attempted murder.
The students had been charged with "holding people hostage" in a university building and setting it on fire, "with the aim of killing those on the upper floor".
Pro-democracy protesters, largely drawn from Bahrain's Shia Muslim community, took to the streets this year to call for the 200-year-old ruling Sunni Muslim dynasty to give up its hold on power and allow a freely elected government.
Shia Muslims make up about 70% of Bahrain's 525,000 people but say they face widespread discrimination.
Court criticised
Earlier, the court imposed prison terms of between five and 15 years on 20 doctors and nurses convicted of aiding anti-government demonstrators.
International human rights groups, the UN and medical associations in the West condemned the sentences and called for the rulings to be overturned.
Bahrain's prosecutor-general has said appeals by some of the convicted medics against their sentences will be heard on 23 October.
It will be the first time a civilian court has reviewed the decisions of the security court.
Military rule was declared in March, a day before protesters were driven from Pearl Square in Manama. It was lifted in June, following hundreds of arrests and workplace purges.
More than 30 people have died since the protests began in February.